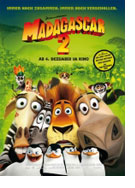 Madagascar 2 (Madagascar: Escape 2 Africa)
U.S.A. 2008
Opening 4 Dec 2008
Directed by: Eric Darnell
Writing credits: Etan Cohen
Principal actors: Ben Stiller, Chris Rock, David Schwimmer, Jada Pinkett Smith, Sacha Baron Cohen
If Shrek set the bar higher for film audiences, catering to both adults and children individually with its own sly sense of humor, then Madagascar was the forerunner for adapting the New York state-of-mind to an animated comedy. Four wild animal friends of the Central Park Zoo kept us chuckling at their Woody Allen neuroses, cavalier attitudes and pampered celebrity ways. In short, they were created to entertain us, in a showy, New Yorker fashion. Take them out of the city and dump them into the jungle and you have the very funny premise of Madagascar.
We meet Alex the lion, Melman the giraffe, Gloria the hippo, Marty the zebra and the same delightful cast of penguins, lemurs and chimps in this sequel: the journey back to Manhattan. They don't get far (a highly-amusing airplane crash landing), thanks to a ramshackle plane commandeered by the industrious Penguins. Now stranded on the African continent under the shadow of Mt. Kilimanjaro, the friends find a paradise waterhole to spend the next few months while the Penguins gear up for airplane repairs. Alex finds his family, Gloria a hippo hunk, Melman gets to play doctor and Marty finds solace in the zebra herd. Our Lemur king Julien and sidekicks provide the silliness and reprise the earworm, I Like to Move it, Move it… When the waterhole dries up, the friends band together to save the herds and outsmart the second Alpha male lion, Makunga.
One wonders if the fish-out-of-water theme can last through an entire second film, and surprisingly, it squeezes by with a band of stranded New Yorker safari tourists led by a tough old granny. Maybe there would have been more fresh material if the plane landed in a place just a tad more different from Madagascar than Africa – didn't we get all those country mouse/city mouse jokes last time? Other story lines prove to be mediocre, like meeting Alex's African family (read Lion King redux), Marty loosing his individuality in the herd, and Melman's sappy crush on Gloria. Moto Moto, a macho hippo dreamboat, is the only worthy new character that will have you snorting into your popcorn.
When Madagascar 2 sticks with the New York wise-cracking, it delivers what we expect: more of the same. All we really want from this sequel is to let the animals entertain us with quips, catchy tunes and a bit of showmanship without a Disney life-lesson. This film would have earned its fourth star if seen in the original version, as the big-city voices of Ben Stiller, David Schwimmer, Chris Rock and Sacha Baron Cohen are sorely missed while the German dubbing flubs along. Sequel to the much-loved animated Madagascar with voiceovers by Ben Stiller, Chris Rock, and Sacha Baron Cohen. (Kirstan Böttger)