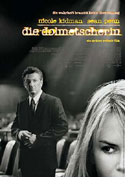 Die Dolmetscherin (The Interpreter)
U.K. 2005
Opening 21 Apr 2005
Directed by: Sydney Pollack
Writing credits: Martin Stellman, Brian Ward, Charles Randolph, Scott Frank, Steven Zaillian
Principal actors: Nicole Kidman, Sean Penn, Catherine Keener, Jesper Christensen, Yvan Attal
Can words make more of an impact than bullets? This question is at the heart of the thriller The Interpreter, directed by Sydney Pollack (Three Days of the Condor, Absence of Malice, The Firm) and starring Nicole Kidman and Sean Penn. Kidman plays Silvia Broome, an interpreter at the U.N. whose understanding of the (fictional) remote African dialect Ku puts her life in danger when she overhears a whispered conversation in Ku after hours in the U.N. General Assembly that sounds like a plot to assassinate Edmund Zuwanie, the head of the (fictional) African state of Motobo, at the U.N. When Silvia reports what she heard, federal agent Tobin Keller (Penn) is assigned to the case. But the more Tobin learns about Silvia, the more he wonders if she's a victim or a suspect, and he only has three days to unravel the mystery before Zuwanie arrives at the U.N.
The themes of The Interpreter are very relevant in our 21st century world: diplomacy vs. force, vengeance vs. forgiveness vs. justice, suspicion vs. trust. Kidman and Penn are excellent in their roles and perfect foils for one another, even as they are drawn to each other. The movie also feels very real, and rightly so as it was the first production ever granted access to film inside the U.N. (which had to be done in weekend shoots over a five month period when the U.N. wasn't in session). However, while the plot twists keep you on the edge of your seat for much of the film, in the end the story gets too twisty and confusing for its own good and too far-fetched. Overall, while I applaud a film that celebrates diplomacy over violence, this one requires quite a bit of interpretation to make sense of it all. (Kirsten Greco)


Second Opinion

Although it wasn't thoroughly action-packed, it certainly was two hours spent on the edge of my seat! All the movie magic elements were there to keep up the suspense throughout, the characters were deliciously mysterious and suspicious, and there were even a few gasp-out-loud-and-grab-the-hand-next-to-you moments.
Additionally, it is almost a forgone conclusion these days that Nicole Kidman will deliver a brilliant performance, and her portrayal of U.N. interpreter Sylvia Broome from war-torn Matobo, Africa, is no exception. When she overhears an assassination plot, her case is assigned to Secret Service Agent Tobin Keller (Sean Penn). Penn convincingly plays this sharp-witted and mistrustful investigator, who is simultaneously dealing with a lot of personal baggage. While these main characters are able to draw you into the story emotionally, the suspense is created by the minor characters, the revolutionaries, assassins and political rivals.
So why only two stars after this glowing review? Well, the problem is that I am still in suspense. Does anybody know how this movie ends? I didn't understand the story resolution! Who was on whose side? Who was plotting against whom? Perhaps with better editing, this movie could be a four star-er. I recommend saving it for a rental so that you can rewind and rewatch scenes at your leisure – a bit of self-editing, if you will.
As to the larger issues upon which this movie touches (i.e., corrupt regimes in Africa, suicide bombings, and the role of the U.N.), the politics in this film were credible enough to move the story along, but not insightful enough to be considered social commentary. It was a suspense-thriller, obviously made for entertainment purposes only, and not worthy of too much reflection. (Alyssa Cirelli)