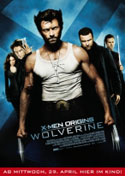 X-Men Origins: Wolverine
U.S.A. 2009
Opening 30 Apr 2009
Directed by: Gavin Hood
Writing credits: David Benioff, Skip Woods
Principal actors: Hugh Jackman, Liev Schreiber, Danny Huston, Will i Am, Lynn Collins
Hugh Jackman (Wolverine) is back as the mutant man with the claws.
James Logan (Jackman), who later becomes Wolverine, is a sickly child until his claws show for the first time. After this turning point, he has to live with the fact that he is a mutant whose greatest talent is to kill. Col. William Stryker (Danny Huston) recruits James and his half brother Victor (Liev Schreiber), also a mutant, for a special military unit. Stryker, who has no scruples and will do anything to reach his secret goal, wants to unleash the beast in Logan/Wolverine and finally succeeds.
Although directed by Gavin Hood, director of Totsi (won the Oscar for Best Foreign Language Film, 2005) and co-produced by Hugh Jackman, this X-Men prequel wastes its potential: the characters remain flat, their complexity unexplored. Fans of the original comics are likely to be disappointed at how certain characters are treated. The story is also full of clichés. What you can expect is a visually exciting film (director of photography is Donald M. McAlpine, Oscar-nominated for Moulin Rouge in 2002) with no heroes you can get emotionally attached to.
Hint: Watch the credits to the end. (Christa Greiff)