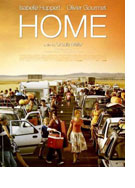 Opening 25 Jun 2009
Directed by: Ursula Meier
Writing credits: Antoine Jaccoud, Olivier Lorelle, Ursula Meier, Gilles Taurand, Raphaëlle Valbrune
Principal actors: Isabelle Huppert, Olivier Gourmet, Adélaďde Leroux, Madeleine Budd, Kacey Mottet Klein
Playing ball games on the tarmac of the freeway or taking a lazy sunbath on the grass strip next to it is quite normal for Marthe (Isabelle Huppert), Michel (Olivier Gourmet) and their three children. They don't mind the uneventful life and love the privacy of the solitary house next to an unused road.
They are a lively lot leading a happy, if boisterous, family life. Each morning Michel drives to work, two of the children cross the empty freeway walking along a small path to the school bus. The teenage daughter, out of school and obviously out of a job, enjoys lazing about, listening to music oblivious to the world around her. Mother Marthe, dressed in high-heeled boots and flimsy dresses, haphazardly tidies the house, does the washing, and collects the little ones from the bus stop. Life seems idyllic.
With little warning, life changes; privacy becomes a word of the past. After ten years, construction work starts again and in no time the freeway is opened to the public. How will they cope? A series of rather tragic-comic situations follows.
The Swiss director Ursula Meier's first feature film is a successful mix of different genres. She presents us comedy, thriller, drama and a very original soundtrack and camera work. The versatile Isabelle Huppert once more gives proof of her acting talent. But also Oliver Gourmet as well as the three children Adélaide Leroux, Madeleine Budd, and Kecey Mottet Klein are totally convincing as a crazy, bizarre family going through turmoil of emotions. This is a very entertaining film with some weird ideas. Realism is lurking behind a mask of absurdity. (Birgit Schrumpf)