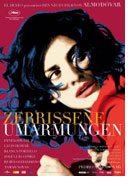 Zerrissene Umarmungen (Los Abrazos Rotos, Broken Embraces)
Spain 2009
Opening 6 Aug 2009
Directed by: Pedro Almodóvar
Writing credits: Pedro Almodóvar
Principal actors: Penélope Cruz, Lluís Homar, Blanca Portillo, José Luis Gómez, Tamar Novas
Brilliant colors and patterns, gorgeous Penélope Cruz, muse of director Pedro Almodóvar, gorgeous southern scenery from genteel Madrid to the black sandy beaches of the volcanic island of Lanzarote, plus countless references to other films and stories keep us entertained and distracted by breaking up the terrible tragedies revealed in Broken Embraces.
Secretary Lena (Cruz) asks her wealthy, aging industrialist boss, Ernesto (José Luis Gómez), for help as her dying father has not enough money to get hospital care. She eventually becomes his mistress, the "lady in red" and "high heels." To please Lena, Ernesto becomes the producer of the comedy film Girls with Suitcases, an acting vehicle for her, directed by Mateo (Lluís Homar), who complicates matters by immediately falling in a needy love with Lena. Jealously, Ernesto keeps track of Lena by having his neglected son document the making of the film and watching the daily rushes. Under pressure from these three men, and now in love with Mateo, Lena tries to leave Ernesto until he pushes her down a flight of stairs, breaking her leg, forcing her to stay.
After the film shooting is complete, the lovers disappear to an island retreat to live a brief idyllic intermezzo. But while cuddling on a sofa with Mateo viewing the 1954 Rossellini film Voyage to Italy, Lena is struck with foreboding when she sees a shocked Ingrid Bergmann view the remains of an embracing pair of lovers caught in the lava of Mt. Vesuvius (this scene has several levels of broken embraces on which Almodóvar bases his film's title.) In their absence, vengeful Ernesto releases a hacked up version of Girls with Suitcases, forcing Mateo to return to Madrid to rescue his film. There is a terrible car crash on the way to the airport – or was it an accident?
This story is told in a series of flashbacks by Mateo, who was blinded by the accident, and has taken on a new identity and new life as Harry. There are many more surprises, from playwright Arthur Miller's rejection of his son with Down's Syndrome to mother and friend of Harry Judit (Blanca Portillo) with a "close relationship" to her twenty-year-old son, finally revealing to him that their friend is his father. (Nancy Tilitz)