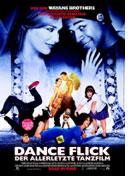 Dance Flick - Der allerletzte Tanzfilm (Dance Flick)
U.S.A. 2009
Opening 3 Sep 2009
Directed by: Damien Dante Wayans
Writing credits: Keenan Ivory Wayans, Shawn Wayans, Marlon Wayans, Craig Wayans, Damien Dante Wayans
Principal actors: Shoshana Bush, Damon Wayans Jr., Essence Atkins, Affion Crockett, Chris Elliott
Megan White (Shoshanna Bush) aspires to become a successful ballet dancer and applies to a fancy school. Instead, she is accepted at a big-city music high school where she meets other students such as Charity (Essence Atkins) and Thomas Uncles (Daman Wayans Jr.). Together they form a "crew" and participate in a street break-dance contest.
This is a funny satire by director Damien Dante Wayans, although I counted at least ten more Wayans as producers, writers, and actors. I thoroughly enjoyed it. Strangely my German colleagues were lukewarm, and I'm wondering why our opinions differed so greatly. Perhaps they were expecting a version of Scary Movie, also by the Wayans, or they couldn't understand the ghetto African-American slang, or they were unfamiliar with the music film references behind the jokes. If you don't recognize the references, the film would superficially be reduced to farts, smacks and sex jokes, which, of course, are not enough. But, I was thrilled to see spoofs of Hairspray, Fame, Dirty Dancing, Step Up and Step up to the Street and High School Musicals 1,2, and 3. There were references to Grease, Footloose, Little Miss Sunshine and Ray. Even shades of Twilight, Edward Scissorhands, Starlight Express, and Titanic, as well. We could have played "Guess that Musical." I would have loved having a check list in advance to see whether I recognized them all.
Young Daman Wayans Jr is a good actor, who will go far even without the family network. Amy Sedaris (sister of writer David Sedaris) plays a grim, iron-hearted dance teacher who tells a student, "You have more chins than the New York telephone book." Many chins could also apply to Sugar Bear (David Alan Grier in a fat suit) who does a take-off on the "Feed Me" song from Little Shop of Horrors. There are veiled references to unbridled ambition, high gasoline prices, interracial dating, absentee fathers, Uncle Tom's Cabin, Brandy, Halle, J Lo, Puffy, and Britney. All the pieces of these musicals are expertly interwoven so that it all connects logically and the film is never boring.
It's definitely as good as Scary Movie, but if you haven't a clue what I am talking about so far, then forget it. Otherwise, if you are a musical film buff, it will be worth your time. See it in English if possible. I can't imagine any good translation of the text. (Becky Tan)