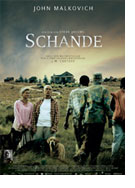 Opening 17 Sep 2009
Directed by: Steve Jacobs
Writing credits: J.M. Coetzee, Anna Maria Monticelli
Principal actors: Paula Arundell, Scott Cooper, Eriq Ebouaney, Jessica Haines, John Malkovich
Australian scriptwriter Anna-Maria Monticelli and her husband-director Steve Jacobs faithfully follow the theme of the novel by Nobel and Booker prize-winner J.M. Coetzee, one of South Africa's foremost writers.
With the backdrop of South Africa's awesome landscape of sweeping open spaces and towering mountain ranges a gripping human drama unfolds. David Lurie (John Malkovich), a fifty-something sexually driven professor, seduces one of his students. Consequently, he is dismissed from his post. Looking for a break from the gossip he visits his daughter Lucy (Jessica Haines), who lives on a small farm tucked away in the mountain valley, selling flowers at the village market and running a dog kennel. After the end of apartheid, the black labourer Petrus (Eriq Ebouaney) was granted some land by the new government. He is now co-owner, sharing the land with Lucy. David – the sophisticated white city professor – is appalled by this new development, fearing for her safety.
It gets worse. Three black youths attack the farm, brutally beat him, lock him up, rape Lucy and shoot all her dogs. He is helpless and unable to protect his daughter. The police are informed, but nothing comes of it. Lucy discovers she is pregnant and that one of the raping youths is Petrus' relative. She swallows her anger, unwilling to jeopardize the relationship with Petrus, who is the only one able to protect her if she is to continue living on the farm. Her child will be born, and she has no other choice but to co-exist with him and his people, to accept the changed reality of her country. David retreats back to Cape Town, pathetically apologizing to the flabbergasted family of the student girl. On his return he finds the house ravaged by robbers. How will he cope with the future?
John Malkovich is an excellent choice for the role of David. He showed much more than an arrogant and aloof professor but was equally convincing as the helpless middle-aged man, stripped of all pride. For newcomer Jessica Haines, it was her first film and she played Lucy with passion and strong conviction.
For many years I lived in South Africa and feel that the film is an uncompromising and honest reflection of the times. It is a very complex multilayered story about "disgrace", at times shocking and disturbing. It provokes and invites discussion. At the Toronto Film Festival Disgrace received the International Critic's Award (FIPRESCI). (Birgit Schrumpf)