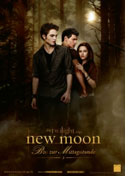 New Moon - Biss zur Mittagsstunde (New Moon)
U.S.A. 2009
Opening 26 Nov 2009
Directed by: Chris Weitz
Writing credits: Melissa Rosenberg, Stephenie Meyer
Principal actors: Kristen Stewart, Taylor Lautner, Robert Pattinson, Billy Burke, Ashley Greene
The long-awaited sequel to the 2008 blockbuster Twilight is finally out.
Based on the second book in Stephenie Meyer's bestselling Twilight series, New Moon is about a particularly dark period in Bella's (intense Kristen Stewart) life. Her vampire boyfriend Edward (Robert Pattison, whose fans will find his part in this instalment too small) tries to protect her by breaking up with her when she is attacked by a member of Edward's family. Edward believes that as a mere mortal with a short attention span, Bella will eventually forget him and find a less dangerous boyfriend. Little does he know!
Bella loses all interest in life and suffers a serious breakdown. She only feels better when she discovers that putting herself in danger will trigger hallucinations of Edward. Consequently, Bella takes up motorbiking and cliff-diving, because hallucinations of Edward are better than no Edward at all. What this danger-seeking behavior might do to our accident-prone heroine isn't hard to imagine. Fortunately handsome, reliable Jacob (hunky Taylor Lautner) comes to the rescue. But Bella wouldn't be Bella if this nice and helpful friend didn't have a dark secret, too.
In the end, after a series of dramatic events, roles are finally reversed, and Bella has to save Edward's life. She discovers she's much tougher than she thought and that she, too, possesses a very special gift.
Directed by Chris Weitz (The Golden Compass), New Moon follows the book quite closely, almost to the point where the movie misses the opportunity of newly creating the story as a film. While New Moon is generally well-made and entertaining, it sometimes fails to reach the book's level of intensity. I still liked New Moon better than Twilight because the effects were more convincing. If you're new to the Twilight saga, you might also want to know that you won't see a lot of blood and violence in this romantic vampire flick. (Christa Greiff)