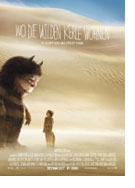 Wo die wilden Kerle wohnen (Where the Wild Things Are)
U.S.A. 2009
Opening 17 Dec 2009
Directed by: Spike Jonze
Writing credits: Spike Jonze, Dave Eggers, Maurice Sendak
Principal actors: Max Records, Catherine Keener, Mark Ruffalo, James Gandolfini, Paul Dano
There are a lot of films for children and about children, but seldom do we see films that are truly from a child's perspective. This one is special. Where the Wild Things Are is based on Maurice Sendak's beloved children's book of the same name. Although only ten sentences long, the book struck a special chord with children and has sold nearly 20 million copies since it came out in 1963.
The film is an expansion of that story, stemming from a collaboration between Sendak, Dave Eggers (co-writer) and Spike Jonze (co-writer and director). As one of the film's producers, Sendak insisted that the film not only respect the frustrations of childhood but also the wonderment and imagination. It succeeds.
Anyone, of any age, who knows how to build a tent from sheets and chairs, sail the seven seas, or battle monsters, will appreciate the magic of this film. Anyone who isn't afraid of dirt-clods, snowballs, and running as fast as you can through the woods with utter abandon, will understand the passion of this film. And anyone who has felt hot tears of regret after destroying something in uncontrolled rage will understand the lessons.
A defiant nine-year-old Max, feeling misunderstood and left out, bites his mother during a tantrum one evening and then runs away. Wearing his wolf costume, he makes his way by sailboat to an island inhabited by monsters.
During his first encounter with the Wild Things, to avoid being eaten, Max persuades them that he is a king with magical powers to make everything OK. This appeals to the monsters. They strike up a friendship, and he leads them in dirt-clod fights, unfettered rumbles, a fort-building project, and the most fun they have had in a long time. Along the way though, Max finds that emotions and relationships can be complicated and being a king is a difficult job. The monsters' interactions with each other and with Max begin to mirror Max's problems back home. His journey becomes evermore contemplative, cathartic and moving.
The look of the film is very realistic. This is not a fanciful Tim Burton world. You can taste the snow and feel the water on your skin. The monsters are costumed actors, not computer generated. It has a very real feel to it, and it is beautifully done.
Newcomer Max Records, in the role of Max, is nothing short of wonderful – sensitive and expressive. Catherine Keener plays Max' mother, and she is amazing at conveying all the worry and love of a stressed-out single mother with just one look. Giving voice to the monsters are, among others, a brilliant James Gandolfini, Catherine O'Hara and Forest Whitaker.
Is it scary? Yes. But the scariest part isn't the dark woods or the monsters themselves, who are for the most part friendly and humorous. It is scary in the same dark way that playgrounds, bullies, and divorces can be scary – in the same way that it is scary to be faced with complicated emotions you aren't yet equipped to deal with. The scary part is finding that there are monsters inside us, and this film is about learning to tame them.
Sheltering, overly-cautious parents might want to sit this one out and wait for the next shallow Pixar flick, but they would miss out on a wonderful opportunity to remember the pain and wonder of childhood, and spark meaningful discussion. (Shawn Klug)