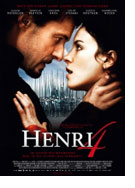 Opening 4 Mar 2010
Directed by: Jo Baier
Writing credits: Jo Baier, Heinrich Mann, Cooky Ziesche
Principal actors: Julien Boisselier, Joachim Król, Andreas Schmidt, Roger Casamajor, Armelle Deutsch
"Everyone in my kingdom shall be allowed to think and believe as they choose," proclaims Henry of Navarra, future Henry IV of France (1553-1610), at a time when brutal wars were fought in the name – or under the pretext – of religion, pitting Catholics against Protestants and bringing hunger and misery for decades. Under Henri's leadership of tolerance and acceptance, France was finally united and enjoyed a long lasting peace, amidst a war torn Europe.
The film is based on a two-part novel by Heinrich Mann. Published in 1935 and 1938, it was Mann's answer to fascism and nationalism in Europe at the time. Director Jo Bair shows us that we still and once again need to strive for those humanistic principles that Henri IV stood for. Personal courage, tolerance and acceptance as well as leadership are needed as much today, as senseless acts of fanaticism are committed, intolerance takes hold and personal freedoms are denied. Baier successfully fuses this "then & now," this unfortunate relevance to present times. The sets and costumes are as subtle as possible without betraying the historic setting. The camera refrains from treating these details with adoration, as is usually the case in "historic films," and thus preventing Henri 4 from being locked in its historical period. The actors appear contemporary, but not in an obtrusive way; we are looking into the faces of our neighbors, friends and enemies and ourselves. The use of today's vocabulary whenever possible is convincing. (Make-up by Gerhard Zeiss; costumes Gerhard Gollnhofer, amera Gernot Roll.)
But halfway through, about at the time when Henri (Julien Boisselier) takes Gabrielle D'Estrèes (Chloé Stefani) as his mistress, the film becomes unbearably draggy. Boisselier's undeniable charm and charisma suit the movie well in the beginning, but his acting range is too limited and can't sustain interest in the character beyond the first half of the film. I detected no chemistry between Henri and Gabrielle – neither his passion for her, nor her (initial) distain for him. In the accompanying information material Henri is described as a "great king" and a "great lover"; the film does not support the latter. To the contrary. He proclaims to his first wife, Margot Valois (Armelle Deutsch), he "wouldn't force a woman to do anything that she doesn't enjoy." Nevertheless, he violently forces himself on her. He treats his second wife, Marie de Medici (Gabriela Maria Schmeide) as what amounts to rape, and trades riches and titles for Gabrielle's family in exchange for sexual encounters with her, the one woman he claims to be the love of his life.
All relevant messages have been delivered during the first 75 minutes or so, and it felt senseless and very trying sitting through the last hour. Another battle, another plot. By then I was wishing the terrific Ulrich Noethen (as Karl IX), Devid Striesow (D'Anjou) and Hannelore Hoger (Katharina de Medici) would come back from the dead, to keep my interest going. They didn't. (Carola A)