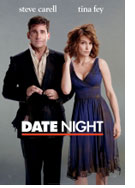 Date Night - Gangster für eine Nacht (Date Night)
U.S.A. 2010
Opening 15 Apr 2010
Directed by: Shawn Levy
Writing credits: Josh Klausner
Principal actors: Steve Carell, Tina Fey, Mark Wahlberg, Taraji P. Henson, Jimmi Simpson
Claire and Phil Foster are just a normal, suburban couple with two kids, jobs, little love life and their regular date nights. Usually those nights are short and always in the same restaurant. Since they don't really have anything to talk about they make up stories about the other couples in the restaurant.
But that one night was supposed to be different: in town (New York City), a new fancy restaurant and all that. But, no table available. So they just take the reservation of the Tripplehorns. All seems fine until these two scary-looking guys show up, lead them in the alley behind the restaurant and threaten them with a gun. They are asked to give back a "flash drive" which belongs to Joe Mallone (the name just screams "Mafia"). They don't believe that the Fosters are not the Tripplehorns. They are taken to Central Park where the flash drive is supposedly hidden, but can escape.
Now starts a seemingly dangerous but one of the most hilarious chases through the city I have seen in a long time. Bonus for the ladies: Mark Wahlberg half naked! He helps out more than once, and with his help they find the flash drive and what is really behind it.
Steve Carell and Tina Fey turn this story that seems like "been there, done that" into something entertaining and hysterically funny. Great (adult) comedy! (Tina Grieben)