Made in the U.S.A.

by Mary Nyiri
Jesse (Ethan Hawke) and Celine (Julie Delpy) met in Vienna and spent fourteen hours roaming the streets, getting to know each other. They promised to meet again in six months. This unforgettable night together takes place in the film Before Sunrise, which won director Richard Linklater the Silver Bear at the Berlinale in 1995. Linklater, with the same actors, continues their story in Berlinale competition entry Before Sunset, when the two meet again, but not as planned. Now it is almost ten years later, and the city is Paris. Jesse is a writer on tour promoting his latest novel, which happens to have a lot in common with that night in Vienna. As he talks about his book in a quaint Paris shop, he realizes Celine is actually there. Jesse has less than two hours before he must be at the airport for his flight back to the U.S. He and Celine decide to have a coffee at a nearby café, leaving instructions for the limo to pick him up later.
As the couple slowly get comfortable with each other again, Jesse is surprised to learn that Celine had lived in New York City for awhile. Jesse recalls seeing a woman that he thought was her on the street – turns out it was just a few blocks from where Celine was living at that time. She now lives in Paris. They easily fall into a warm camaraderie, bantering as they provide each other small tidbits about the changes in their lives. Celine wants to know if Jesse did indeed show up to meet her six months later as promised. They have some kind of terrific chemistry going on that keeps building until the final climax.
Before Sunset stands on its own as a charming film that is beautiful in its simplicity. Hawke and Delpy are absolutely wonderful. They flawlessly keep the momentum going so that the end of the film, like many a return flight, comes too soon, leaving everyone breathless with possibilities.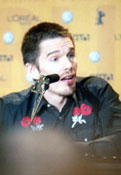 Under "Press"-ure!: The easygoing nature of the relationship between Jesse and Celine continued into the press conference where it was evident that everyone had a good time making this sequel. What is so unusual about Before Sunset and perhaps why it is not exactly a sequel is that it has exactly the same characters and they just continue the story, unlike most sequels that often only take parts of the previous film, explains Julie Delpy. Richard Linklater admits that it was a risk to follow-up such a well-regarded film as Before Sunrise, but what he wanted to do was "…to try and dig deeper. Their lives are more complex now. And that's really what it's about: getting older and life going on."The time between the characters meeting is the same time between making the films. For a long time, Hawke and Delpy emailed each other and talked about the script in great detail. Jesse/Celine/Hawke/Delpy are so fluid and spontaneous with their conversation that I asked whether they improvised or followed a script. Delpy answered to my surprise that there was absolutely no improvisation at all. She said they digested the lines "…well enough so that it seems like we're just having a conversation…," which was the goal, to make it as natural as possible. Hawke agreed that "…it felt incredibly immediate." He further explained that since there wasn't any drama in the movie, what it was "…striving to be was to really be in the present in the moment." That was the idea of having the film in real time. Kirsten G followed up with a question about the difficulty of making a 90-minute film in what amounts to the real time the characters are together. Linklater remarked that it was difficult technically, especially with the details like where the sun was during a particular time of day. The shooting schedule was so short (just 15 days) that there were only a few hours of the day they could shoot. They couldn't shoot a scene and have it not work since they couldn't cut around it, which meant that the film was in a sense "almost like a film play." However they did it, it worked! (Mary Nyiri)
Aileen Wuornos worked as a prostitute in Florida, where between 1989 and 1990 she murdered seven of her "johns". Convicted of six murders and sentenced to death, Wuornos was executed by lethal injection in 2002. Writer/Director Patty Jenkins in her debut feature film Monster seeks to tell Wuornos' story.
As a fictional work based on a true story, Jenkins appears to be trying to dispel the "monster" image that Wuornos held in the press by detailing the circumstances under which Wuornos kills. The story begins with Wuornos (Charlize Theron), who walks and talks like a man, arriving in a bar soaking wet. While getting drunk on beer, she is approached by a young girl, Selby Wall (Christina Ricci), who offers to buy her drinks. Wall refuses the brush off and over a few pitchers of beer, they bond. And right at the start, the film takes an unusual turn away from a film about a monster serial killer, instead becoming a love story between Aileen and her "baby" Selby.
Selby was sent by her parents in Ohio to live with her aunt in Florida so that she could get over her homosexuality like a good Christian should. When Selby brings Aileen home to spend the night, her aunt warns her not to bring that kind of woman around. But Selby and Aileen have already agreed to meet again. They go roller skating. Outside the arena, kids giggle as they pass the lesbian couple getting dirty just outside. Too soon Selby must return to her family in Ohio, so Aileen promises to give her the night of her life before she leaves.Partying hard requires cash, and Ai-leen sets out on the streets determined to get some. Quickly picked up, she is ready to get down to business, but the john turns out to want more than just sex, and in a brutal battle for her life, Aileen shoots him dead. Back from her first kill, Aileen apologizes to Selby for missing their date, promising to make everything up to her if only given a chance. Selby agrees, packs up and runs away with Aileen, not realizing that the car belongs to a dead man. Aileen believes she has found true happiness and tells Selby that she is giving up streetwalking and is going to find real work. Selby seems a bit skeptical, apparently more worried about money than Aileen's sex with strange men. Unfortunately, no one is willing to give a decent job to a woman with no job history and no apparent job skills. As Selby goes hungry and starts hanging out with other gals, Aileen goes back to the oldest profession. In a panic, however, Aileen kills again. Is Aileen actually a real monster? Is she just a screwed up victim of circumstance that causes her to kill again and again? Eventually Selby realizes what is really going on, and Aileen is inevitably captured by the police.
Theron is explosive as Wuornos. Ricci is convincingly part little girl, part lesbian lover. Together they tell a very disturbing tale of love and death.
Meet the Press: Since this was the first feature film for Patty Jenkins, I was curious why she chose the true life story of a serial killer as her subject and why she wanted to present it in such a dramatic way. Jenkins explained that she was intrigued by the way in which people like ourselves can end up in circumstances we could never dream about. And she realized there was an overwhelming interest in the stories of serial killers. Once she learned about Wuornos, the first female serial killer, she became "sucked in" and was overtaken by how devastating the story was. Then while working on the screenplay, unable to sleep one night, she happened to catch a rerun of Devil's Advocate starring Charlize Theron, and she thought to herself, "She could do it!" From that moment Jenkins wanted Theron to play the part of Wuornos.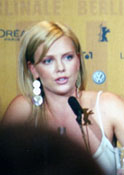 Many press conference questions addressed the fact that Theron gained a lot of weight and wore prosthetic teeth for her part as Wuornos. Jenkins said that looks are superficial, and she looked for someone with extreme talent who was very brave and would not shy away from the fact that Wuornos became a killer. I wanted to know if Theron ever went out to Wal-Mart to experience what it was like to be unattractive. Theron said she never left the set because there was no time during shooting and perhaps more importantly, she thought that it wouldn't be productive. She did wear her prosthetic teeth in Orlando before production because she basically had to re-learn how to speak. Jenkins laughed about that and said she had asked Theron if she realized that people were going home telling everyone that she had bad teeth. Theron further explained that everyone on the set knew her with the extra weight; she wasn't around her family and friends. They were all focused completely on the film which was shot in just 28 days, so there was no time for lollygagging. She was not fat, it was the character, and she never confused the two. When questioned about her Academy Award nomination for Best Actress, Theron replied, "If you look in the past, everybody makes the correlation that if you go ugly, you'll get an Academy Award. But the truth of the matter is that if the work is really good – no matter what body it's in – that's what is important." The International Jury of the 54th Berlinale must have found her performance was indeed "really good" when they awarded Theron the Silver Bear for Best Actress. (Mary Nyiri)
"Cut" in competition film The Final Cut refers to film jargon. In this science fiction film, mini chip cameras called Zoë implants are put into babies' brains. The camera films their lives, and upon their death, there are mountains of film material to be sorted and spliced and shown at the funeral. Professionals who do this job are more important than morticians. They must be morally impeccable and skilled at working with the families of the deceased, choosing only complimentary segments. These films, called rememories, are wiped clean of trysts with mistresses, incestuous acts, or criminal business deals. Too bad the deceased can't see his own rememory. Alan Hackman (Robin Williams) is the best in the profession. One day he sees a person he thought long dead in a client's film. He learns that he, too, has a chip. Although this is the end of his cutter career (as cutters cannot have chips), it opens new avenues to his girlfriend Delila (Mira Sorvino), who long ago was repulsed by his hypocrisy.
At their Berlinale press conference, Robin Williams, Mira Sorvino, and new director Omar Naïm explained in detail the thoughts behind the film, which was developed at the Equinox Project. This project entails being one of 10 promising new directors to be selected to spend a week with 10 filmmakers in the South of France to perfect their scripts. He explained some of the ideas behind his film, for example, not all babies received such a camera, only those whose families had the money and the desire. People demonstrated against the selective vs. a real and perishable memory. Naïm said he tried to keep the costumes (contemporary, not space-age), Hackman's work area (a computer desk), and the photography (old photo-like) in warm colors. It was saddening to hear all the wonderful ideas behind the film because they did not come across to the audience during the film. I thought it was one of the most disappointing films of the competition.
Robin Williams' stand-up comedy during the press conference was hilarious, even if it did upstage the director. Among his comments: "President Bush is rewriting the U.S. Constitution on an Etch A Sketch;" "people who have been treated with Botox feel great – they just can't show it;" and "method acting is when the actor is wearing brown corduroy pants and relieves himself in them – he feels immensely better but the audience doesn't know the difference." (Becky Tan)
Christian Bale stars as Trevor Reznik in director Brad Anderson's disorienting tale The Machinist. Trevor lives a lonely life, working at a factory in a monotonous but relatively dangerous job and only finding companionship occasionally in the arms of a prostitute (Jennifer Jason Leigh) and in conversation with an airport coffee shop waitress (Aitana Sánchez-Gijón). Trevor's life has gotten even worse, though, in the last year due to his constant insomnia. He begins suffering from brutal hallucinations, one of which may be to blame for an accident at work that costs a colleague (Michael Ironside) his arm. He finds cryptic and disturbing notes on his refrigerator. And he meets Ivan, a new guy at work that seems just a bit odd. Is Ivan involved in something sinister? Or is Trevor just losing his mind?
The Machinist kept me on the edge of my seat for about the first hour, but then I grew tired of its many twists and turns. Perhaps that was partially due to the fact that it was my 40th and last film of the festival, but I also think that the plot just got too convoluted. Bale does a great job in the role, especially given that he was completely emaciated, having lost 62 pounds for it (in fact, one reporter asked at the press conference if the filmmakers were ever worried about Bale's health; they said they had kept a watch on him). The cinematography and washed-out look of the production design are also effective, making the audience feel like Trevor feels. But overall, I felt that The Machinist just ran out of steam. (Kirsten Greco)