The Children's Film Festival Struggles to Survive

by Shelly Schoeneshoefer
Super RTL Moderator David Wilms once again opened this third annual Children's Film Festival. He always organizes a pre-festival activity, and this year he divided the children into groups of three to answer seemingly difficult questions to win little prizes. This year my son Adrian's teammates were two film jury members from last year, and they managed to answer all the questions correctly.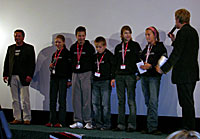 David Wilms introduced the organizers: Albert Wiederspiel, Sabine Kaulitzki, and Susanne Steube, who said they were glad to pull it off this year since they were facing financial difficulties, which won't keep them from doing it again next year as well. The organizers explained that this festival is not their only job since they could never survive on the salary of this festival alone. Susanne Steube is also a location scout; she described this job to the children, saying that she is very busy all year-round with these other contracts. They also said that they plan to do more workshops in the future since this year's workshop was successful.
David also introduced Dana Schweiger, who was the Schirmherrin (patroness). She helped endorse the film festival and speaks German very well. She loves living in Hamburg, which is quite similar to her hometown of Seattle, and she enjoys living in the Niendorfer Gehege since the kids can have fun in the forest. She also hinted that she has started a company that has something to do with children's products. She introduced the children's jury, who seemed less articulate then the group from last year. They did, however, at the closing of the film festival, manage to find their voices and announce the winner of the Michel prize and why it was chosen. Der Schatz Der Weissen Falken won the prize of EUR 2,500.
The Festival had four feature films: two from Germany and one each from Brazil and South Africa. There were two animated films – one from Russia and the other German – and they repeated several short films from the Kinder Kurzfilm Festival which showed earlier in May. The South African film, A Boy Called Twist, was a remake of Oliver Twist, which was reminiscent of the remake classical version of Carmen which won the Golden Bear at the 2005 Berlin Film Festival. This film, however, did not win since the kids' jury though it too harsh to be a children's film.
The short film Sabbat Shuhe from Israel was a lovely film about a girl who prays to God for red shoes and is surprised when her wish is fulfilled and that the man that she thought was God turns out to be someone else. It is a nice film since it also shows a different culture and the spiritual view and innocence of a child. There were also two very clever and funny clay-mation films: Desmond's Apple Tree from Sweden and Night Shift from Finland.
I believe it is important to support this film festival and the Children's Short Film Festival since both of these festivals show different cultures and ways of living. It gives our children a chance to hear other languages and see how other children live all over the world. It teaches our children to ask questions and try to understand other cultures and ideologies. I hope next year to see more of our club members there with their kids.