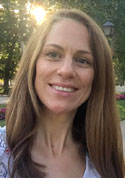 Marlane Wingo Nigbur
Marlane mostly enjoys watching French films or documentaries, but since living in Germany, she will settle with her limitations on Netflix. Another favorite past time is movie trailers. She can watch movie trailers for two hours and then off to bed. It's quite satisfying.
Having lived in Astoria, Queens, New York for five years, she was lucky enough to frequent the movie theatre at Kaufman Astoria Studios.
Marlane grew up in Georgetown, Texas. She has lived in New York City, southern California and curious where her next layover will take place. She is most proud of her trilingual son.
Marlane Wingo Nigbur is an author and was the president of the American Women's Club of Hamburg e.V. in 2017.
Films Reviewed by Marlane Wingo Nigbur