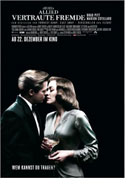 Allied - Vertraute Fremde (Allied)
U.S.A./U.K. 2016
Opening 22 Dec 2016
Directed by: Robert Zemeckis
Writing credits: Steven Knight
Principal actors: Brad Pitt, Marion Cotillard, Jared Harris, August Diehl, Daniel Betts
Max (Pitt) and Marianne (Cotillard) are secret agents that are partnered up to kill a Nazi ambassador during WWII, after they fall in love, get married and have a baby girl. In this time, Max continues to work for the Canadian government outside London. Max is informed that his wife is a possible German spy. He must prove that she isn't in less than 72 hours or he must kill her.
Move over Mr. and Mrs. Smith. Brad Pitt plays a secret agent again but this time with his real-life mistress (?) Marion Cotillard in Allied. Their chemistry on screen makes it easy to believe that there was something between them off screen, too. However, Marion's acting makes it more believable than Brad's. Robert Zemeckis' directing had my heart racing and Steven Knight's story streaked my motherly cheeks.
As an American living in Germany, it's an eerie feeling to watch a film about WWII. As I left the theatre and pushed the heavy glass door opening to the streets of Hamburg, I was met with a gust of cold wind and loud German voices. (Marlane Wingo Nigbur)


Second Opinion

Steven Knight has penned a convincingly intriguing screenplay he said, "would be based on a true story told to him at the age of twenty-one." In 1942, a parachute drops the Canadian officer in the French Moroccan desert. As assigned, he and the French Resistance fighter immerse themselves in role-playing, vital to the mission. "I keep the emotions real, that's how it works," Marianne (Cotillard) assures Max (Pitt). On the night, and in the enemy's lair, their lives depend on being convincing. Fast-forward one year: Max's commanding officer (Jared Harris) has grounded him, Max and Marianne reunite in London, and World War II is moving toward a huge finale. Then the "rat-catcher" (Simon McBurney) gives Max a "blue-dye" assignment; a commanding officer's nature is not to sit back and do nothing. Circumstances may dictate, but fate controls the depth of love and bravery.
Yes, the jaw-dropping cast from all sides of the proverbial pond delivers. The notable production crew however, is where director Robert Zemeckis strikes paydirt. Production designer Gary Freeman's evocative authenticity with Anthony Caron-Delion's art direction fortifies the film. In union with Raffaella Giovannetti's set decoration and Joanna Johnston's costume design. Satellite Awards has nominated the film for Best Sound. Jeremiah O'Driscoll and Mick Audsley supplely edit Don Burgess' imaginatively versatile cinematography that music composed/conducted by Alan Silvestri and 1940s popular music harmoniously blends. Visually delightful, Allied harks back to when people and countries were inclusive and is a darn good spy story. The storyline gives a hint about what will transpire in a Morocco scene – see if you can spot it. (Marinell Haegelin)