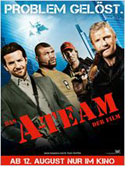 Das A-Team - Der Film (The A-Team)
U.S.A. 2010
Opening 12 Aug 2010
Directed by: Joe Carnahan
Writing credits: Joe Carnahan, Brian Bloom, Skip Woods, Frank Lupo, Stephen J. Cannell
Principal actors: Liam Neeson, Bradley Cooper, Jessica Biel, Quinton 'Rampage' Jackson, Sharlto Copley
Joe Carnahan directs Liam Neeson, Bradley Cooper, Quinton "Rampage" Jackson, Sharlton Copley and Jessica Biel in an entertaining action caper based on the A-Team TV series. The screenplay is by Carnahan, Brian Bloom and Skip Woods.
Condemned for a crime they did not commit, four former Special Forces soldiers go rogue and stop at nothing to uncover the true culprit. They are led by Hannibal Smith (Neeson), the brains behind their exploits, with Templeton "Face" Peck (Cooper), whose charm and ingenuity will get him anything, Baracus (Jackson), the driver and muscle-man, and "Howlin' Mad" Murdock (Copley), a certified nut case and exceptional pilot, completing the quartet. Captain Charissa Sosa (Biel) is convinced of their guilt and pursues them relentlessly every step of the way.
The stunts are ludicrous, the action extreme, and the actors well cast: For fans of the genre, the A-Team will ensure an entertaining cinema experience. (Osanna Vaughn)


Second Opinion

As a child of the '80s, I was more than willing to see the remake of the once popular TV series The A-Team, especially when I found out that Hollywood's new "IT" guy would be in it: Bradley Cooper playing "Ace" alongside Liam Neeson as Col. "Hannibal" Smith. The premise of the movie is the same as the TV show:"If you have a problem, if no one else can help, and if you can find them, maybe you can hire… The A-Team." There are comic scenes and action, action, action as The A-Team works to attempt to accomplish their mission, unfortunately not according to plan. Those who love action and explosions, machine guns, fighting and elaborate set pieces with lots of digital effects and stunts will get what they hope for.
The film starts out with the team being compiled from an interesting blend of characters, Hannibal and new member "B.A" (played by Quinton Jackson), out of necessity in order to successfully save Ace from a band of corrupt Mexican cops with a plethora of gunfire, missiles and a helicopter dogfight. Seconds later the plot fast-forwards eighteen years later to a war-focused plot in Iraq. By this time they are no longer renegades but working officially as part of an unofficial military unit where they are asked to retrieve a billion in counterfeit U.S. currency along with currency engraving plates that made it into the wrong hands.
The movie is not short of action, but I left feeling unattached to the main characters as a whole, including the bad guys. What the movie fails to do is build likeability or affinity for Hannibal from the very beginning, leaving me feeling not bonded to him as the lead. Now this was a different role for Neeson, whom I normally associate with romantic comedies, but I just could not buy into the fact that he was an "action hero." Normally when you see good vs. evil, you are always rooting for the good guys, wanting to see them "conquer the bad guys" but I just did not have those feelings in this movie. Overall I thought it had funny parts, and was interesting to see where they would take it, but I was a little disappointed in the final product.
Stars Bradley Cooper, Liam Neeson, Jessica Biel, Sharlto Copley, Quinton 'Rampage' Jackson, Patrick Wilson, Dirk Benedict, Dwight Schultz, Gerald McRaney, Maury Sterling, Yul Vazquez, Terry Chen, and directed by Joe Carnahan. (Brenda Anderson-Rivera)