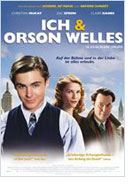 Ich & Orson Welles (Me & Orson Welles)
U.K./U.S.A. 2008
Opening 26 Aug 2010
Directed by: Richard Linklater
Writing credits: Holly Gent Palmo, Robert Kaplow, Vincent Palmo Jr.
Principal actors: Zac Efron, Claire Danes, Christian McKay, Ben Chaplin, Zoe Kazan
High school student Richard Samuels (Zac Efron) just happens to be in the right place at the right time one November afternoon in New York City. An aspiring thespian, he tries to impress actors gathered in front of the Mercury Theatre just as Orson Welles (Christian McKay) leaves. Welles likes his spirit, offers him the part of Lucius to his Brutus in Welles' modern interpretation of Shakespeare's Julius Ceasar sans salary, and sends Richard off to the receptionist Sonja to get settled in.
Sonja Jones (Claire Danes) is unflappable even though the play is to open in four days. "A rule with Orson, you never criticize him… he has a huge ego". Although John Houseman (Eddie Marsan) runs the theatre, Welles is the genius director to whom all must bow. Ever in control, Welles stymies cast and crew with constant changes at the endless rehearsals, by running off to a radio broadcast, and by refusing to adhere to a fixed opening night date. George Coulouris (Ben Chaplin) as Mark Antony laments that they will never open on time and anyway, "in 1937 people don't want tragedy, so polish your resumes".
Stalwarts Joseph Cotten (James Tupper), Norman Lloyd (Leo Bill), Joe Holland (Simon Nehan), and Grover Burgess (Patrick Kennedy) roll with the punches placating Welles: whether intervening on behalf of current mistress, the lead Muriel Brassler (Kelly Reilly) and his wife, or someone in the troupe, or cleaning up after him. When the curtain does finally fall on opening night, everyone's dreams come true, or are shattered, for Welles and especially Richard.
Working from Robert Kaplow's novel and a screenplay by Holly Gent Palmo and Vincent Palmo Jr., director Richard Linklater undertakes a formidable task, and almost succeeds. Instead of pandering to the obsessive anti-establishments aspects of Orson Welles personality, a better depiction would have been one of the complex tormented artisan he was. That said, the cast and production values are first-rate, and Michael J. McEvoy's original music nicely wraps up this highly entertaining package. (Marinell Haegelin)