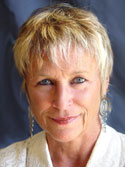 Marinell Haegelin
A film aficionado incarnate and freelance journalist, Marinell received a Master of Fine Arts in Motion Pictures and Television from the Academy of Art University, San Francisco, California. Her experience includes the producing, directing, videography, and editing of independent and corporate films, as well as TV broadcast studio productions in San Francisco.
Marinell's short documentaries screened at the Austin Gay and Lesbian International Film Festival, and San Francisco International Lesbian and Gay Film Festival, and have been broadcast on cable television stations in San Francisco and Hamburg, Germany. One of her feature documentaries received Best Documentary award at SouthSlam Film Festival, Austin, and Honorable Mention from Bayou City Inspirational Film Festival, Houston, Texas, and screened at New Strand Film Festival, West Liberty, Iowa. She has judged film festivals and video television competitions, and lectured in Europe.
Marinell has worked in advertising, marketing, and design for multinational corporations, businesses, and nonprofit organizations in the USA, Germany, and Singapore – clients included Kraft, Wella, Procter & Gamble, Bahlsen, and Nestlé. She was also stage manager for the English Theatre of Hamburg. With metropolitan newspaper experience, Marinell writes theater reviews as well as articles for magazines and websites.
Films Reviewed by Marinell Haegelin