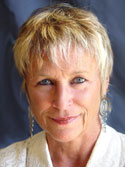 Marinell Haegelin
A film aficionado incarnate, and freelance journalist with film reviews dating back to 1994, Marinell received a Master of Fine Arts in Motion Pictures and Television from the Academy of Art University, San Francisco, California. She has produced, directed, been the videographer, script supervisor, and editor for independent and corporate films, as well as worked in TV Broadcast studio production in San Francisco. Diversity and its implications have always fascinated her, thus influencing Marinell to choose the career path of documentary filmmaking.
Her filmography includes short documentaries that were shown at the Austin (Texas) Gay and Lesbian International Film Festival, San Francisco International Lesbian and Gay Film Festival, and which have been broadcast on Offener Kanal TV, Hamburg, Germany and Cable 29 TV, San Francisco. Moreover, one of her feature documentaries received the Best Documentary award at SouthSlam Film Festival, Austin. Marinell has lectured in Europe, and judged film festivals (Lunafest) and video television competitions (North Eastern States Region contest).
A University of Kansas graduate, Marinell worked for newspapers, advertising agencies and design firms from California to Florida before moving to Hamburg, Germany, in 1987. She was stage manager for the English Theatre, taught design at a local school, was graphic designer for a NATO project, and continued working in advertising and design, as well as for agencies in Singapore. Clients included multinational corporations such as Kraft, Wella, Procter & Gamble, Bahlsen, and Nestlé.
Current endeavors include copyediting, freelance design projects, German to English translation for documentaries, substitute teaching at the International School e.V. Hamburg, website Content Editor for the AWC, and Event planning.
Films Reviewed by Marinell Haegelin