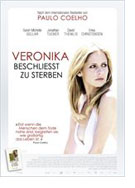 Veronika beschliesst zu sterben (Veronika Decides to Die)
U.S.A. 2009
Opening 30 Sep 2010
Directed by: Emily Young
Writing credits: Paulo Coelho, Larry Gross, Roberta Hanley
Principal actors: Sarah Michelle Gellar, Jonathan Tucker, Erika Christensen, Florencia Lozano, Rena Owen
Even if you are not a fan of the Brazilian author Paulo Coelho (The Alchemist, Brida), one can appreciate this film. Its focus is on the naiveté of a young woman and her desire to die, although lacking the sagacity of age to know the normal convolutions one lives through. Director Emily Young intelligently molds the stellar cast performances with a feminine sensitive sincerity in this thought-provoking film.
Veronika Deklava (Sarah Michelle Gellar) has a jaded view of her thriving life; her reaction is overwhelmingly pessimistic. When she wakes at Villette, a psychiatric facility on the Hudson River, she is devastated. "Learn to think as those around you, and you can pass yourself off as anything you want," quips roommate Claire (Erika Christensen); "you don't want them to think you're crazy". Like Edward (Jonathan Tucker), who has not spoken since the car wreck that killed his then-girlfriend.
Dr. Blake (David Thewlis) informs Veronika she will die soon anyway due to resultant heart damage from her suicide attempt: not good enough. She approaches long-term resident Mari (Melissa Leo) for help to get meds to "finish the job". When she next meets with Dr. Blake, Veronika retorts, "You like playing with people's souls"; he responds, "It sounds like you might be getting better". He and others at the facility begin to awaken more than just her curiosity.
Veronika plays the piano (superbly), Edward time and again listens: somehow these two misfits connect, release their self-inflicted inhibitions and realize life is worth living with an urgency proportional to Veronika's prognosis. Mari sees them, reflects, and subsequently makes a choice. "Don't hide in here, Alex", Mari cautions Dr. Blake. He later writes, "…she'll consider each day a miracle, which in my opinion it is." This film encapsulates "the awareness of life": morality, mystery and magic. (Marinell Haegelin)