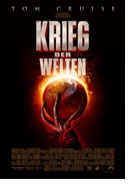 Krieg der Welten (War of the Worlds)
U.S.A. 2005
Opening 29 Jun 2005
Directed by: Steven Spielberg
Writing credits: H.G. Wells, Josh Friedman, David Koepp
Principal actors: Tom Cruise, Dakota Fanning, Justin Chatwin, Tim Robbins, Miranda Otto
This thrilling popcorn movie keeps you jumping more than popping corn. It seemed to take some visual characteristics of the old B-movies -- with the monsters (aliens in giant tripods who want to suck your blood) stalking in the background, coming to get you.
Our knowlege of outer space has changed a lot since H.G. Wells wrote his book at the end of the 19th century. Supposedly director Steven Spielberg stuck closely to the novel, except for not mentioning that the aliens came from Mars -- as this War of the Worlds was set in the present, that would seem too obviously scientifically incorrect.
Wells' story is a difficult one -- some people do not like the idea of beings from outer space bent on taking over our world and killing off mankind. And realism seems to be the director's first priority! Spielberg, a master at scaring us (Jurassic Park, Jaws), made the story of survival of the alien attack very personal by viewing the events through Ray's (Tom Cruise) eyes, sometimes with a handheld camera that makes us feel we are runnng along side him. Throughout the film, we only know what Ray knows. Ray is the blue-collar worker "everyman" who is just trying to save his family. His strongwilled children, Rachel and Robbie (Dakota Fanning and Justin Chatwin) are visiting him perchance on the fateful day, dropped off by his ex-wife Mary Ann (Miranda Otto). The rest of the film describes their encounters and survival on the difficult journey to find Mary Ann. Tim Robbins plays the disturbed Ogilvy, who seems to offer them a resting place.
This film can be viewed in the Geman language version by those (like me) with limited skills. It was very complete visually. (Nancy Tilitz)


Second Opinion

Ray Ferrier (Tom Cruise), divorcee and a night-shift dock loading engineer, has been asked by his boss to work overtime, but Ray bails because he is already late to receive his kids who are coming to visit as a part of the joint-custody deal. Ray's kids, Robbie (Justin Chatwin) and Rachel (Dakota Fanning) are not so thrilled to be spending quality time with dear old Dad nor do they feel at home in his run-down, filthy apartment. While they all get reacquainted, a weird storm is brewing outside. While Ray was getting his normal daily shut-eye, his son takes off in Rays' hot rod car. The storm escalates to a magnificent intensity. Ray goes to check out the happenings a few blocks away and realizes that what's happening is more than a storm. Ray observes weirdness to the max! He is frightened but at the same time intrigued by the life forms that are appearing from underneath the earth, as well as the machine-like robots that are larger than life. They are destroying everything that gets in their way. Ray rushes back to his house to get his kids, and they flee just minutes before their house is destroyed. As people are in total confusion, frenzy and chaos, Ray is trying to remain calm but is fearful. He is trying to keep an alert mind in order to make a smart game plan: to re-unite the family. While on the run from the aliens, Ray loses his son Robbie in a massacre attack which leaves Ray and Rachel devastated. Ogilvy (Tim Robbins) gives them shelter in the time of storm and clues them in on the War of the Worlds theory.
This modern day sci-fi has much to be desired, but it's a typical corny, unrealistic fear-factor frenzy which makes for a fun sci-fi classic. Spielberg did his job in that respect, but he should have thought twice about a better script out of respect for his all-star cast and H.G. Wells' classic narrative, which was brilliant. Maybe he should have filmed this in black and white…interesting thought! And what is a Spielberg film without John Williams' fantasy of music? Williams was able to tantalize our emotions with a combination of musical scores from his other well-known sci-fi works, from sweet sounds of E.T. to Close Encounters of the Third Kind. Ah yes! Another Twilight Zone form of art! (Karen Pecota)