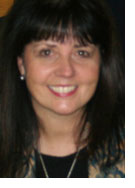 Karen Pecota
Karen moved to Hamburg from Seattle, Washington, U.S.A., just before the Berlin Wall fell, in 1989, accompanying her husband, Steve, and their two children, Kevin and Kathryn. Karen grew up in Southern California and attended Vanguard University in Costa Mesa, California, from 1974-1978, earning a Bachelor of Arts degree in Elementary Education: with a special emphasis on teaching handicap children. Before graduating from college, she attended the Wilshire School of Electrology and has been a California State licensed Electrologist since 1976. Prior to her move to Hamburg, she owned and operated her own Electrology business for over ten years in Seattle. Karen and her husband, Steve, have been heavily involved with a German-speaking expression of Marriage Encounter called Begegnung in der Ehe, since 1990. So, you ask… Where does the world of film fit in to Karen's life?
While writing talks for Marriage Encounter, a passion for writing began to grow. Karen has always been a fan of the cinema with a special love for the old black and white classic films. When the opportunity was given to her to write for English speaking media as a freelance journalist, she willingly accepted the offer and has produced a creative style of writing true to herself. She has been a freelance journalist since 1991.
What passion keeps her connected to the art of film? She has a love for literature, theater and film which she enjoys documenting. However, she is more passionate than ever to continue exploring the world of film because both of her children are pursuing careers in the Arts and Entertainment industry: Kevin, as a film director, screenplay writer and music scorer; Kathryn, pursuing live theater with a goal to become a casting director. Karen wants to support her children in their creative talents and ventures. Understanding the film industry of today is to understand her kids' world for tomorrow, which not only involves the technical aspects but the people that will be of influence in their lives. Karen's career as a freelance journalist, involving special interest stories and film critiques, is just one way to stay involved with the passion that encompasses her children.
Films Reviewed by Karen Pecota