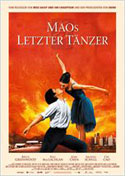 Maos Letzter Tänzer (Mao's Last Dancer)
Australia 2009
Opening 4 Nov 2010
Directed by: Bruce Beresford
Writing credits: Jan Sardi, Cunxin Li
Principal actors: Bruce Greenwood, Kyle MacLachlan, Joan Chen, Chi Cao, Amanda Schull
Li Cunxin – now living in Australia – wrote a book about his life which was published in 2003 and became a bestseller around the world. His upbringing in communist China during the Cultural Revolution, his training for Madam Mao's elite Beijing Dance Academy, subsequent defecting to the United States and becoming a ballet star make a compelling read. Veteran director Bruce Beresford (Driving Miss Daisy) and scriptwriter Jan Sardi (Oscar-winning Shine) present a colourful and emotionally touching screen version of Mao's Last Dancer (title of the book).
The film starts in 1981 with wide-eyed Li arriving from China at Houston Airport. He has been invited for a cultural-exchange student programme with the Houston Ballet. Ben Stevenson (Bruce Greenwood), the artistic director, welcomes him into his home and acts as an interpreter of American culture and custom. Soon enough the charming Li finds another teacher in the cute fellow dancer Elizabeth (Amanda Schull). After three months, he is ordered back to China. By this time he has tasted individual success, the luxuries of the west – and love. He marries his sweetheart Elizabeth and decides to stay. When pleading his case with the Chinese officials, a nasty international incident is the outcome. Strings are being pulled on the highest level even involving Barbara Bush, who is a strong supporter of the Houston Ballet. After a lot of publicity and public pressure he can stay. But the price is high: he will never be able to return to see his family. As painful as this is, he puts all his energy and ambition into dancing. His strict and focused discipline makes him a big international star and the darling of the ballet scene.
Li is played at different stages of his life by three actors. Huang Wen Bin is the 11-year old living with his peasant family in rural China. The part of the teenager is played by Chengwu Gou when Li is already a strong dancer. He puts all his effort into satisfying even the strictest of his teachers. It pays off, allowing him to travel to America. This remarkable biography would not work half as well on film without the lead actor Chi Cao – principal dancer with the Birmingham Royal Ballet – playing the adult Li. He not only is very handsome but brings a naivety and honest emotion to the screen that is totally moving. To top it all – he is an extraordinary dancer, dazzling the audience with his grace and superb leaps. It is a thoroughly enjoyable and entertaining movie for the entire family but is a must for any ballet lover. (Birgit Schrumpf)


Second Opinion

How wonderful it is when poor boy makes good!
Li Cunxin grew up during the Chinese Cultural Revolution and was plucked from a life of poverty to train as a ballet dancer. He was selected from millions, worked incredibly hard for years and years and became one of his country's best dancers.
Li was chosen to participate in a three month season with the Houston ballet in Texas and very quickly became its principal dancer. When his visa wasn't extended by the Chinese authorities, he quickly married his American girlfriend in order to stay in the United States. Li then had a long and distinguished career as a ballet dancer and, when he retired, he wrote his life story, on which this movie is based.
Li missed his parents and six brothers and knew that he would be unlikely to see them again. He had nightmares that his parents would be killed for his defection. The scene where he is reunited with his mother and father is very poignant and is a spectacular finale to an unforgettable film. The dancer Chi Cao, who is the son of two of Li's teachers at Beijing's dance academy, is the principal dancer at Birmingham's Royal Ballet in England. Mr. Bereford's film captures the amazing athletic skills of ballet dancers, and, boy, can Chi dance!
Bruce Beresford, who won four well-deserved Oscars for the movie Driving Miss Daisy, has directed a beautiful movie also worthy of an Oscar. (Jenny Mather)