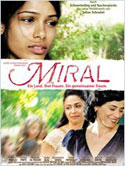 Opening 18 Nov 2010
Directed by: Julian Schnabel
Writing credits: Rula Jebreal
Principal actors: Hiam Abbass, Freida Pinto, Omar Metwally, Alexander Siddig, Ruba Blal
The Mandate is over and Palestine is being partitioned. In 1948, while walking through the Old City of Jerusalem, Hind Husseini (Hiam Abbass) came across 55 abandoned children, victims of the massacre at Deir Yassin. This event became a milestone in her life as she took these orphaned children under her care and eventually established Dar el Tifl, the Children's House, in her aristocratic family home. Nadia (Yasmine al Maseri) fled home to escape the sexually abusive husband of her mother. The emotional damage has followed her however, and she has become an aggressive alcoholic and lands in jail where she meets Fatima (Ruba Blal), accused of being a terrorist. When Fatima's family visits, she entrusts Nadia into their care. Her brother Jamal (Alexander Siddig), a religious leader at the mosque, falls in love at first sight and marries her. They have a daughter, Miral (Freida Pinto). Unfortunately Nadia is very tormented by her past and commits suicide, leaving Jamal to care for Miral, who is six years old. Jamal, not wanting the life of his sister nor his wife to be the future of Miral, decides to take her to Dar el Tifl. Every weekend he picks her up and continues to be a loving father while she grows up into a beautiful teenager in this sheltered school environment.
At 16 she is sent out to teach in the refugee camps, where she is confronted with the harsh reality of her people's struggle. Israeli soldiers appear with tanks and weapons and tell the Palestinians they have ten minutes to leave their homes. Then the camera pans the whole community looking on as a house is torn down, block by block, and one feels the utter sense of powerlessness. Miral, incensed by what she has witnessed, returns to school talking of the need to do something. Mama Hind warns her to stop that kind of talk and to remember that the only difference between her and the refugees is the school and its education. Miral feels that she is not understood and sneaks off with her girlfriend to attend a peace march which turns into a bloody ordeal where her girlfriend is killed. During this encounter she meets and falls in love with Hani (Omar Metwally), a passionate political activist, who gives her the book Palestinian Without Identity to read, and she is hooked. While in Hani's arms he says, "I want to live, I want a future for our children". Her personal conflict is to decide which path to take, the armed fight for her people or to follow the values that Mama Hind and her father have taught her, that education is the true way to sustain peace.
The movie is artistically filmed but is often slow in pace. This drama, directed by American artist Julian Schnabel, is a testimony to the reality of his new partner, Rula Jebreal, who wrote the screenplay, based on her novel Miral. This heart-touching story of a teenager growing up in the Israeli-Palestinian conflict depicts her personal struggle but also represents the struggle of untold other women born into this conflict. Although the tragedy of war leaves deep scars, the vision of Husseini was to heal and educate, to teach love of peace and most essential, to give hope. The movie ultimately is homage to the heroic work of Husseini, who believed that education is the way to peace and dedicated her life to this cause. It goes past the conflict to the core of possible solutions. Her legacy lives on in the lives and hearts of the Palestinian children she touched.
As a living example of the possibility of peace, we have Schnabel, a Jew whose mother was the President of the Women's Zionist Movement in 1948, and Jebreal, a Palestinian from Jerusalem, who have overcome their cultural and religious differences and are living together in peace and with love. This remarkable film gives hope for a future reality of peaceful coexistence and tolerance between Palestinians and Israelis, together yet separate. (Coppelia Hays Branscheid)


Second Opinion

Julian Schnabel, winner of the Douglas Sirk prize at this year's Hamburg Filmfest, and deservedly so, showed his newest film, Miral. Schnabel is a brave man to direct a movie about Palestine which isn't about the Jewish struggle for existence, but he has succeeded in giving a fair and balanced account of life there since the State of Israel came into being in 1948.
Hind Husseini (a real person) was a young woman living in Jerusalem at that time. One day, on her way to work, she came across a group of 55 children huddled together in the street. These traumatised Palestinian children had lost their parents as the equally traumatised Jews began to take back their ancient homeland. Ms. Husseini (Hiam Abbass) took the children home and settled them into an orphanage. As their numbers grew she founded more orphanages and decided that the orphans would all be educated so that they in turn could go out to the Palestinian refugee camps and teach the children there. These schools and orphanages are still in operation today and are continuing her policy of educating the refugee children to practice peace and cooperation.
The girl of the title, Miral (Frieda Pinto), was sent to the orphanage when she was seven years old after the death of her troubled mother. When Miral grows up she is outraged at what she sees as the injustices which the Palestinian people suffer. She becomes involved in street protests, despite Ms. Husseini's pleas. Miral suffers for her tiny part in her nation's struggle, but she is a survivor and is someone who is now resolute in the belief that peace between Jews and Palestinians can prevail.
Julian Schnabel's documentary-style movie is set against the desolate beauty of the Holy Land. He tries to take a balanced view of the problems of that part of the world and manages to give the audience a feeling of hope for the future for its entire people. (Jenny Mather)