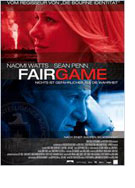 Opening 25 Nov 2010
Directed by: Doug Liman
Writing credits: Jez Butterworth, John-Henry Butterworth
Principal actors: Naomi Watts, Sean Penn
Living in Washington, D.C., Joseph (Sean Penn) and Valerie (Naomi Watts) Wilson struggle to balance their respective careers while parenting pre-school twins. A freelance journalist, Joe is often left to fill-in on the home front when Valerie's high-ranking position with an international company requires she travel, often on short-notice. When a problem arises at her company, Joe comes out of the corner fighting.
Fair Game traces events that lead up to and follow high-ranking official, to Vice President Cheney, Scooter Libby's (David Andrews) "outing" of CIA agent Valerie Plame on July 14, 2003, after Joe writes an op-ed article repudiating a statement in President Bush's 2003 State of the Union Address. Bush says Niger, Africa (Wilson's diplomatic career includes postings to five African nations from 1976 through 1998; he calls Niger "the most unlivable country in the world") sold uranium yellowcake to Saddam Hussein that is being used to make nuclear weapons, better known by the cleverly coined marketing phrase of that administration as weapons of mass destruction, i.e. WMD.
One scene between Scooter and CIA agent Paul (Tim Griffin) splendidly illustrates Scooter's (that administration's) power to contort and control, using words. Of course time sorts any fiction of past current events into hard, irrefutable facts, even for those who cherry-pick reality to suit their beliefs.
Directed and shot by Doug Liman, Jez Butterworth & John-Henry Butterworth's screenplay is based on Joseph Wilson's The Politics of Truth and Valerie Plame's Fair Game books. The film interweaves news-bites from chief media sources for substantiation and takes us through the labyrinth of political subversion, the "save your ass" mentality and societal decadence of that administration, and the ensuing aftermath.
Penn and Watts are brilliant, Liman's camera work good if not somewhat excessive with the hand-held, and Christopher Tellefsen's editing appreciatively tight. When Scooter is prosecuted, Joe intuitively knows he "took the fall"; off-screen, did not we all. Addressing college students, Joe says, "Democracy is not a free ride…" At the end of the day we are all fair game if we do not practice civil courage and choose the moral high ground. This is one "David vs. Goliath" film you do not want to miss. (Marinell Haegelin)