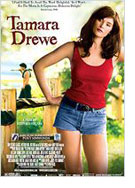 Immer Drama um Tamara (Tamara Drewe)
U.K. 2010
Opening 30 Dec 2010
Directed by: Stephen Frears
Writing credits: Moira Buffini, Posy Simmonds
Principal actors: Gemma Arterton, Roger Allam, Bill Camp, Dominic Cooper, Luke Evans
Tamara Drewe (Gemma Arterton) returns to the Dorset village where as a girl she was arrogant and unliked. Now she is a sexy young journalist who has had a nose job that literally changed her life. Her return to Ewedown causes havoc among the men in the area. Handyman Andy (Luke Evans), who was her lover during secondary school, is too timid to approach her, and Tamara begins an affair with rock star Ben (Dominic Cooper), who was performing in the area. Tamara's life blooms while Beth Hardiment (the wonderful actress Tamsin Greig) is becoming depressed. Beth and her mystery writer husband Nicholas (Roger Allam) run a writer's retreat at a lovely farm property outside town. Beth tries to cope with his affairs and does a great job catering to the guests. Nicholas uses the arrangement to feel good about himself using the guests as his audience. All the while two bored teenaged girls sneakily follow Tamara's comings and goings – especially after she takes up with the rock star who they swoon over.
The movie ends in a tragedy but all together it is a comedy of manners. The dry humor is so well presented by director Stephen Frears, who also made The Queen. The film was inspired by Posy Simmond's comic book, which was in turn inspired by Thomas Hardy's classic Far from the Maddening Crowd. (Thelma Freedman)


Second Opinion

It seems that British film directors have captured the market in light-hearted semi-black comedies, and Stephen Frears of My Beautiful Launderette fame is a master of the genre. The setting is Dorset, Thomas Hardy country, and a group of authors gather for a writers' retreat hosted by Nicholas (Roger Allam) and held together by his much-put-upon wife. Along comes Tamara who grew up in a house neighbouring the writers' retreat. She plans to renovate it, sell it and continue with her glamorous London life. Tamara is played by Gemma Arterton, the actress known to every British TV viewer as Tess from Hardy's Tess of the D'Urbervilles, which the BBC recently serialised. Tamara was an ugly duckling when she was growing up but a nose job has transformed her into a beauty and three men compete for her affection. One of these is Nicholas who gets his just desserts for his abominable behaviour before the movie is over.
Briskly paced, funny and light hearted with the added bonus of Dorset's glorious countryside as a backdrop, Tamara Drewe is a very entertaining movie. (Jenny Mather)