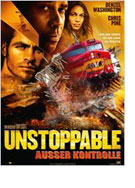 Unstoppable - Ausser Kontrolle (Unstoppable)
U.S.A. 2010
Opening 11 Nov 2010
Directed by: Tony Scott
Writing credits: Mark Bomback
Principal actors: Denzel Washington, Chris Pine, Rosario Dawson, Ethan Suplee, Kevin Dunn
The Scott Free media production company takes another leap of faith to side-step CGI graphics to heighten a true-to-life crisis using the best stunt people Hollywood offers in Unstoppable. A master filmmaker, Tony Scott takes his latest silver screen project, inspired by actual events, and illustrates that ordinary people can conquer challenges from bizarre circumstances. Equal to a grand magician, Scott assures his film audience that by using visual expertise and dramatic flair he will demonstrate the capture of a runaway train destined to destroy. Not an act one can try at home!
The Fuller Train Yard in Wilkins, Pennsylvania begins the day in normal fashion. The night shift transitions to the day shift but due to fatigue, neither group is particularly on their game. The need to accommodate a request from the yard supervisor, Connie (Rosario Dawson), to ready the trains to host an elementary school field trip makes two shift workers stay on the job longer than desired. Disgruntled Dewey (Ethan Suplee) was at the helm of train 777 ready to lay it to bed and uses a short cut to make the job go faster. Unfortunately, he underestimates the capabilities of the modern thirty-nine car train when not manned properly. The anticipated track switch did not go as planned, so while setting the throttle to coast, Dewey jumps off the train to manually switch the track. A big No-No…don't leave a colossal train unmanned, right? Something bad could happen!
The same morning, Will Colson (Chris Pine) is a new hire conductor beginning his first day at Mingo Yard in Brewster some 200 miles down the line from the Fuller Yard. Will reports to 28-year veteran train engineer Frank Barnes (Denzel Washington) and interrupts his morning coffee time with a group of veteran railroaders. Frank learns that Will is his conductor for the day and isn't in the mood to baby-sit. The tension that permeated the air among the old guard's anger that Will was not only a new hire but a political pawn brought in by the union was something Frank had to hold in check. One by one the old guard was being replaced way before their time while the union played a silent voice. Will was the visual face that put the old boys' fears on edge. On the other hand, Will had his own problems and had to prove that he was the best man for the job in spite of his inexperience.
Frank and Will's journey to guide the old 1206 albatross six-axel engine up the line toward the Fuller Yard clearly identified that Frank was the teacher and Will had better take note. Their ride forced them to get to know one another that surprisingly prepared them for the real mission of the day. One they could have never imagined: saving hundreds of lives by choosing to capture a highly combustible runaway train. It is a ride you too will not want to miss nor imagine how ordinary can be heroic. (Karen Pecota)