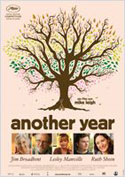 Opening 27 Jan 2011
Directed by: Mike Leigh
Writing credits: Mike Leigh
Principal actors: Jim Broadbent, Lesley Manville, Ruth Sheen, Oliver Maltman, Peter Wight
Gerri (Ruth Sheen) is a psychotherapist for the National Health System; her husband of many years, Tom (Jim Broadbent), is a geologist. They are in their 60s, live in a small but well appointed house in London and have a great relationship with their son Joe and later on with his girlfriend when she appears on the scene. It is an ideal family. The couple leads a content - even happy - existence while at their jobs, working year round at their allotment garden (the movie is divided by seasons) and while entertaining friends at home. Somehow though they seem to have friends who are not so content or so well adjusted to growing older such as Mary (Lesley Manville) and Ken (Peter Wight), who envy the married couple their ability to slide so easily into the advanced years of their lives.
I saw this film in German and was not as impressed as with previous Mike Leigh films, which left lasting impressions on me. I assume that its charm was lost in translation. (Thelma Freedman)


Second Opinion

In harmonious tedium Mike Leigh's direction of and screenplay for Another Year is a superficial washout that equates growing old with being unhappy, rather than an empathetic view of life's choices catching up. Gerri (Ruth Sheen) and Tom's (Jim Broadbent) contented bliss, personified by them working in their city garden plot during the four seasons, is a sharp and disproportionate contrast to their friends and family members despondent lives, whom we encounter over the course of a year.
Janet (Imelda Staunton) is the first person we meet, and she is interesting, yet her fate evaporates in lieu of Leigh's preoccupation with Mary's (Lesley Manville) tiresome overdeveloped character and his medley of discontents; also worthy of note is the nephew who is briefly on screen. Some friends, like old clothes, should be tossed. Why Gerri and Tom let this lot hang on, unless their misery makes Gerri and Tom feel better about themselves, is inexplicable. Most likely nuances in both the dialogue's translation and delivery were lost in the Deutsche Synchronization; the shrill voice for Mary was monotonously grating, while the other characters voices were studiously read and wooden. Even so, but for the good acting, this disheartening, disengaging film left me feeling like another year had passed by the time I left the theatre. (Marinell Haegelin)