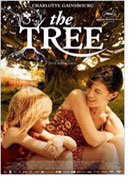 Opening 3 Mar 2011
Directed by: Julie Bertucelli
Writing credits: Judy Pascoe, Julie Bertucelli, Elizabeth J. Mars
Principal actors: Charlotte Gainsbourg, Morgana Davies, Marton Csokas, Christian Byers, Tom Russell
In the opening shots of Dawn (Charlotte Gainsbourg) and Peter (Aden Young) O'Neil having a nighttime tête-à-tête while swinging in a hammock, their intimacy is firmly established. With four children, their contentment is ensconced in a rambling home shaded by a towering fig tree in rural Australia. Until the day Peter returns from a business trip and fate grips his heart. Devastated, mom takes to her bed leaving oldest son Tim (Christian Byers) to (try to) hold the household together as well as care for younger siblings Simone (Morgana Davies), Lou (Tom Russell) and unspeaking Charlie (Gabriel Gotting).
Pining for her father, Simone fixates on his spirit living in the fig tree; to make the tree homey Simone hangs family photos and keepsakes from the branches. When she finally tells her mom, Dawn is amazed yet placates her. Next, Lou waters the tree, although there is water rationing because of drought. The neighbor loudly complains about the huge wandering roots. And eight months down the road, searching for a plumber for root related problems, Dawn inadvertently stumbles in to a job with George (Marton Csokas), who not only fixes her pipes but also revitalizes Dawn much to, especially Simone's, proprietary chagrin.
Elizabeth J. Mars' original screenplay, with writing help from director Julie Bertuccelli, is based on Judy Pascoe's novel Our Father Who Art in the Tree. Their challenge, to imbue supernatural qualities that change an entity (the tree) into a life form, is not met on celluloid. Grief, adjusting to an altered life, and jealousy mingled with imagined disloyalty are enough to challenge any director. Yet there is this tree: ponderous shots (close-up, wide and from various angles) of the tree do not make it mortal. With the many subplots, Bertuccelli loses focus: snippets of mom, the kids, neighbors et al. give us more to question than to understand. As they drive off "into the sunset" I could only wonder what their future shenanigans might entail. (Marinell Haegelin)


Second Opinion

Eight-year-old Simone is on the back of the pick-up truck when her father suffers a deadly heart attack at the wheel. The car comes to a stop at the foot of the majestic fig tree next to their home in the Australian Outback. Grief overtakes the young widow (Charlotte Gainsbourg) like the roots of the fig tree that – due to lack of water – are overtaking the garden and threaten to destroy the house. She's barely able to care for her children. While her three sons deal with the loss each in their own way, Simone (Morgana Davies) has very consciously decided to be happy. Convinced that her father's soul now resides in The Tree, she finds comfort sitting in the branches talking to him, waiting for the wind in the leaves to answer her.
Through history trees have played an important role in the world's mythologies. People feel emotionally connected to trees and draw strength from touching them. Maybe Simone instinctively tapped into this. Maybe she got the idea from watching the ants that she had seen on her father's grave, climbing on the tree. To help her mother carry on, Simone shares her secret. Dawn starts to connect to the tree as well, elflike curling up at its roots, finding peace.
The closeness between mother and daughter is put to a test when Dawn's new boyfriend (Marton Csokas) not only inspires Simone's jealousy but her ire and desperation when he prepares to take The Tree down to save the house. Each cut with the chainsaw feels like a limb is being cut off. The reactions that follow are understandable at first on an emotional level, but the turn the story takes is bewildering and the metaphors begin to fall apart. I enjoyed watching it anyway: an entirely wonderful cast with good chemistry between them; a magical landscape. And: I have a thing with trees too. (Carola A)