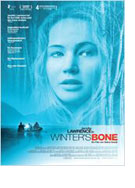 Opening 31 Mar 2011
Directed by: Debra Granik
Writing credits: Debra Granik, Anne Rosellini, Daniel Woodrell
Principal actors: Jennifer Lawrence, Isaiah Stone, Ashlee Thompson, Valerie Richards, Shelley Waggener
Know the proverb "make a penny do a pound's worth"? Director Debra Granik has done just that, with stellar backing from everyone involved. The story is simple and told against a frozen winter backdrop, deep in the hilly terrain of the southern Missouri Ozarks. Environs that reflect the pain of dire poverty, where wary eyes stare out of gaunt sinewy faces and no one is quite to be trusted. Gumption is fleshed out in the form of Ree Dolly (mesmerizing Jennifer Lawrence), a 17-year-old girl and the surrogate mom to Sonny (Isaiah Stone) and Ashlee (Ashlee Thompson) since their dad landed in jail. Ree schools, teaches arts of survival and nurtures them with wisdom beyond her years: "Never ask for what aughta' be offered" she tells Sonny as he gazes hungrily at neighbors skinning a deer.
When Sheriff Baskin (Garret Dillahunt) shows up on the doorstep, he talks to Ree, not her withdrawn mom, as eyes watch. Her crank-cooking dad, out on bail with an impending court date, has set their house and woods as bond collateral; Ree stonily states she does not know where he is, and she will find him. So begins her journey into a treacherous landscape inbred with relatives of relatives, introverted, individualistic, and as unflinching as Ree, until Ree respectfully confronts them. With livelihoods dependent on methamphetamine, this mite of a girl is threatening. Teardrop (John Hawkes in a chilling performance) callously warns Ree, to no avail; Thump's gal, Merab (Dale Dickey is great), snaps when Ree keeps poking around after her daddy: "you was warned nice, why didn't you listen?" Teardrop steps in, "this gal ain't gonna tell nobody nothing", then later cautions Ree: "… my lil' brother (probably killed)… if you ever find out (who done it) don't tell me."
Stark visual storytelling with currents so ominous you will catch your breath, Winter's Bone is as raw and fresh as a slab of succulent Midwest steak. Michael McDonough's cinematography and Affonso Gonçalves's editing imbue, and shot on location, using locals' in supporting roles, Dickon Hinchliffe's original music encircles and haunts. When you hear Marideth Sisco sing, you know you cannot get any closer to real than that.
Based on Daniel Woodrell's novel, Debra Granik and Anne Rosellini's screenplay encapsulate the harsh reality of isolation, dauntless courage and yes, even hope, that course through this addition to the cornucopia of Oscar© nominated films. "I'd be lost without the weight of you two on my back"… sweet Ree, talking straight, makes it hard for any audience not to listen. (Marinell Haegelin)


Second Opinion

Ree Dolly (Jennifer Lawerence) is not your typical 17-year-old. Ree does not have the luxury of escaping her difficult life in the Ozarks of Southwestern Missouri. Instead of attending high school and participating in the normal activities 17-year-old girls do, Ree must raise her younger brother and sister while at the same time taking care of her mentally ill mother. Ree's father, Jessup, is in and out of the family's life, as well as in an out of jail. The last time Jessup was arrested for cooking crank (a form of methamphetamine), he put the family house and attached land up as bond. The local sheriff notifies Ree that Jessup has not been seen for a couple weeks and is not expected to show up for his court date. If this happens, Ree will lose the family home and in turn, the means to care for her siblings. Ree sets out through the dangerous woods of the Ozarks in search of her father. As is quickly seen, Ree's extended family in the Ozarks live by strictly followed and enforced rules – do not talk to or trust the authorities, and do not question the 'men folk' of the Dolly family. If these rules are broken, stiff consequences will occur.
Unfortunately for Ree, the only male figure in her life is her paternal uncle, Teardrop (John Hawkes). Teardrop is controlled by the Dolly family rules but appears to struggle with wanting to help his niece. This gives Ree no assistance. As Ree attempts to find out on her own what has happened to her father, director Debra Granik does a wonderful job of showing the colors of the Ozarks through banjo- and fiddle-accompanied songs, distant gun pops in the woods, the gutting and cooking of squirrels for dinner, and the dress and mannerisms of the Dolly family men and women. This is successfully done without playing to any kind of cliché or type. Ree seems to understand the boundaries that are set by her community yet does what is necessary to protect her family. (Mary Lindgren)