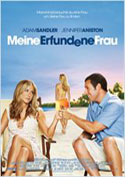 Meine Erfundene Frau (Just Go With It)
U.S.A. 2011
Opening 24 Feb 2011
Directed by: Dennis Dugan
Writing credits: Allan Loeb, Timothy Dowling, I.A.L. Diamond, Abe Burrows, Pierre Barillet
Principal actors: Adam Sandler, Jennifer Aniston, Nicole Kidman, Nick Swardson, Brooklyn Decker
Hats off to the casting of this quirky little comedy starring Adam Sandler as Danny, a heartbroken plastic surgeon, and his loyal office assistant, Jennifer Anniston as Kathryn, a divorced mother of two enjoyably witty children, Balilee Madison (Maggie) and Griffin Gluck (Michael).
The movie starts with Danny getting a bitter dose of reality just moments before his wedding. That reality leads Danny down a different aisle filled with lies and one-night-stands … that is until a real blonde bombshell enters the picture: Sports Illustrated swimsuit model Brooklyn Decker, who plays the role of Palmer, an elementary school teacher. Danny falls for Palmer but his fake marriage gets in the way. That's when he enlists the help of Kathryn and her children, and the lines of deception and truth get comically blurred along the way.
Adding to this perfect cast mix is Nicole Kidman as the hot, snooty but ultimately likeable Devlin and Dave Matthews as Ian Maxtone Jones, Devlin's husband, who rocks his cameo role as much as he does his real-life band. Nick Swardson, as Eddie, nudges his way into a pretty major role as Danny's cousin and Kathryn's pretend boyfriend. But this fake blended family takes on some National Lampoon traits when they all go away together on a Hawaiian vacation.
Overall, the film delivers plenty of laughs from start to finish. However, some laughs may be gratuitous when it comes to some exaggerated stereotypes, like the gay hair stylist, the lazy babysitter or the Spanish-speaking housekeeper. German audiences might also get a little annoyed when one character fakes a supposedly German-sounding accent. This film also pokes fun at Hollywood and all that makes Tinsel Town anything but real. It's filled with innuendo and at times some humor that may elude some audiences outside the U.S. But no one can argue the sheer charm and delightful talent of little Balilee Madison. This little girl has quite a gift and is sure to be an on-screen regular throughout the years. And not to forget Griffin Gluck who is definitely one cute kid. And, Adam Sandler is, in two words, "completely charming," and Jennifer Anniston is as adorable as always.
For this quirky comedy there truly is a message sandwiched between the laughs … and that is … when you get real with life, life gets real with you. (Jeannette Jordan)