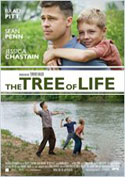 Opening 16 Jun 2011
Directed by: Terrence Malick
Writing credits: Terrence Malick
Principal actors: Brad Pitt, Sean Penn, Jessica Chastain, Hunter McCracken, Laramie Eppler
The Tree of Life is the new film from director Terrence Malick, who also did the screenplay. The music was nicely coordinated by Alexandre Desplat with contributions of Bach, Brahms, Berlioz, Mahler, Holst, Respighi, Gorecki and others, besides Desplat himself. The photography, properly put together by Emmanuel Lubezki, has brilliant special effects, and a great deal of science is involved, which takes us to unseen dimensions. The work of the people behind the cameras is worthy of admiration; the actors play a secondary role to the visual and auditory components of this film. This is the sort of film that will be loved or hated; you just have to see it for yourself.
A "must watch" for believers of all religions, I can summarize it by saying that it is a magnificent prayer. It is a questioning to God of our own existence in light of the loss of a loved one. One can identify by asking the question, "What can be worse that the loss of our own child?" The script was organized in such a way that there is no previous attachment between the viewer and the person who dies, which sort of protects us from being excessively and emotionally overwhelmed. The special effects and the photography are especially beautiful; throughout the film there is a talk with God, as well as a reply: the rhythms of the universe. The greatness of nature is beautiful and devastating, even the start and end of the universe, joys and sorrows of ordinary, everyday life. There are two contrasting parenting styles: one full of grace and empathy (the mother) and the authoritarian, tyrannical father. Beautiful symbolism is used to parallel nature with humanity.
The children are sweet and natural actors. Only little Jack is overacted and never at ease. The authoritarian father hated by his own son is not really a villain; he just means to prepare his children to confront a competitive world. A model of a father, precisely and brilliantly played by Brat Pitt, he is a successful engineer but incapable of assertive discipline, clueless with empathizing with children and unable to communicate the love feelings he has for his children. This is a contrast with the easy-going, ready-to-forget mother (Jessica Chastain, whose realistic picture of a mother, here, gives her a big step in her career). She puts up with the man who scars her children, an admirable situation, even today. As a result, Jack (Sean Penn) grows up to be an unresolved case of uncertainties. Penn is really a luxury in this film, time very well spent and necessary, just because of what his face has to offer. The film evolves and in the end resolves: "We will understand the meaning of all this at the end" said the prayer. (Amanda Watts)


Second Opinion

Sorry, I don't have much to write because I was not enthused about this film at all. The nature "happenings" at the beginning of the film were too other-worldly for me. I know it certainly had great meaning, like being the creation of the world or something, but it was too much. Then the family story finally began, but I again lost interest in a while. I got tired of Brad Pitt's role of frustrated man turned abusive father, and the spiritual whisperings and calls of the mother and the brother. Towards the very end of the film one heard the word "Amen" repeated three times slowly. So perhaps the whole film was supposed to be a kind of prayer. All I know is that my prayer was answered: the movie ended. (Thelma Freedman)


Second Opinion

During the course of this film, Jack (Penn), evidently successful and affluent, works through an existentialist crisis. He passes the day(s?) lost in flashbacks about his childhood in the '60s in a small Midwestern town, as the oldest of three sons in a traditional churchgoing family. Father (Pitt) and mother (Chastain) each try to instill their principles in him that he can't reconcile and that will "forever wrestle inside him". The father's way is "The Way of Nature" – the survival of the fittest; he wants him strong and to fight hard to get ahead. His methods of teaching confuse and hurt the sensitive child; his mother's is "The Way of Grace". Adding to his agony and testing his and his family's faith will be the untimely death of his younger brother at age nineteen.
This is not a story, let alone a linear story; there are many twists and turns – too many to not get confused. The first turn right at the beginning is an overlong segment with images evocative of "Creation": The Big Bang, planets, meteors, and life emerging from water (created in a special lab with chemicals, dyes, smoke etc.); accompanied by biblical quotes and underscored by gorgeous music. Unfortunately it is painfully drawn out and when it just about has lost all its power, this never-the-less artful segment concludes unbelieveably artificially with two animated dinosaurs entering the picture.
Then it's back to Jack, lost soul aimlessly walking through a modern cityscape, taking glass elevators in glass buildings, his furrowed face in despair. Flashbacks fade in and out – small vignettes without much dialog. Terrence Malik (director) tries to rely on the power of the image; there are different voice-overs to stress a point, though the voices are often hard to distinguish. The imagery is beautiful but often too much in love with itself and then disturbingly close to fashion shoots. Other scenes – Jack having an epiphany or the depiction of "Heaven'" – descend into "kitsch". Malik tried to tackle the fundamental question of life without a story. 1-1/2 stars for trying. (Carola A)


Second Opinion

Forty minutes into The Tree of Life, I was still asking myself, "When does this film begin?" I felt silly being forced to watch (albeit beautifully photographed) scenes of the fiery creation of the earth and dinosaurs. Finally, the story unfolded: middle class American family lives in traditional American neighborhood (tree-lined, quiet streets, porches in front of the wooden shingled houses). The father (Brad Pitt) works; the mother (Jessica Chastain) is a housewife, and the sons, first three, then two, and then – by adulthood – only one, cope with the quirks of the parents. The father is a small cog in the wheel, a nobody, and he makes up for feelings of inferiority by lording it over his small sons. Sean Penn plays the oldest and surviving son, Jack, as an adult. His thankless role consists of standing in a high-rise office in Houston, Texas, talking on the phone or staring out the windows. In the end, he, along with many other people, wander dreamily through a mysterious, lonely landscape, much like the final scene in Fahrenheit 451, except those people are wandering with a purpose: memorizing the last books on earth before they are destroyed. Otherwise, the chit-chat script says nothing and goes nowhere.
In the end, I, and a fellow colleague, thought: "Is this Scientology trying to get under my skin?" Why didn't I understand anything? Luckily, the accompanying press notes clear up a few questions. For example, Jack was the oldest son (not the middle one as I thought), and they are in Waco, Texas, in 1950. It was actually filmed in Smithville, Texas, 30 miles from Austin, and also in Austin as well. The best, actually extraordinary, actor was Hunter McCracken, who played Jack as a child. Tye Sheridan, who played the youngest son, Steve, looks so much like Brad Pitt that they could actually be related. One star is for the excellent photography, not only the beautiful creation-of-the-world shots, but the actual close-ups of this little family playing on the lawn, eating supper, etc.
I've given up trying to understand the Cannes film festival which gave The Tree of Life the Golden Palm this year. The festival's judges seem to like opaque films. Last year's winner, Uncle Boonmee Who Can Recall His Past Lives, was also more than obscure. Whatever happened to a straight-forward plot with a reasonable resolution, such as the 2007 Cannes winner 4 Months 3 Weeks and 2 Days from Romania? I will wait and hope. (Becky Tan)


Second Opinion

Writer / director Terrence Malick's signature is minimalist dialog, characters' voiceover, nature, aesthetic beauty, symbolism, and rich musical and cinematic contrasts. The Thin Red Line (1998) is a haunting, poetic anti-war film, wherein Badlands (1973) is about two teenagers' 1958 killing spree minus a judgmental stance, yet evocatively unforgettable. Once seen, his films are hard to forget as is his fifth, The Tree of Life, albeit for diametrically opposite reasons.
Mrs. O'Brien (Jessica Chastain) and Mr. O'Brien (Brad Pitt) are grief-stricken after receiving a telegram their youngest son, only 19-years-old is dead. For oldest son Jack (Sean Penn), successful nonetheless discontent, the death stirs up childhood memories: growing up in small town America in the 1950's with loving parents and two younger brothers. "How did I lose you"? "Find me." And look for him – and mankind's relation to one another, the universe, God, et al – we do, for 138 minutes.
Dialogue is scant, but about twenty minutes into the film we take a twenty-minute-sans-narration cosmic journey of colossal proportions: from the Big Bang through prehistoric time, to a child's journey into this earthly world. Although some images are stunning, I think Malick's interpretation is lacking, and he gambles with leaving his audience behind. Subsequently the O'Briens' early years – first child, then children, sequence is quintessential. Inspired by Malick's philosophy background, the tree of life concept is that all life on earth is related: any story loses relevance to this larger interpretation.
The film was to have been released in March, then December 2009, and premiered at the 2011 Cannes Film Festival. How much was lost on Malick's cutting room floor in the interim? I have seen, and remember, his earlier films, and am disappointed. Audiences should not have to connect empirical dots. The Tree of Life seems to polarize audiences, but, once the Cannes-Penn-Pitt-Palm d' Ore hubbub has subsided, I predict art house venues will be this film's best friend. (Marinell Haegelin)