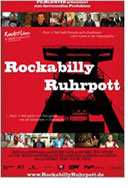 Opening 30 Jun 2011
Directed by: Claudia Bach
Writing credits: Claudia Bach, Christin Feldmann

One, two, three four five, Rock 'n' Roll is still alive" in the Ruhr region (Ruhrgebiet) in North Rhine-Westphalia. With a population of 5.2 million (2009) mostly blue-collar industrial workers, it is the largest urban agglomeration in Germany, as well as home to a subculture of R 'n' R fanatics. Listening to and looking at the interviewees in this documentary personifies the term "time warp": dressed to the nines, with curled tresses or oiled pompadours, against a background of furnishings, signage or cars from the 1950s, the American aficionados call themselves a Rockabilly while those who adhere to the British influence label themselves a Teddy boy.
Claiming to be eingagged (suppressed – another German adaptation of an English word), young and old collectively rebel by embracing R 'n' R music, internalizing the '50s philosophy, and parroting that by-gone lifestyle. When you consider the cost involved for the clothes, shoes, accessories, hair and tattoo salons, furniture stores, finding and shipping U.S. autos et al, we are talking about a big business.
The smorgasbord of unidentified persons interviewed dilute directors Christin Feldmann and Claudia Bach's objective. We jump around so much that to understand the Rockabilly timeline is like trying to jump on an ICE train going full throttle. We do not see enough of the bands, present or past performing, and I am still puzzled why the directors tossed in the bits about Hawaiian Tikis and confederate flag (USA) racism; they muddle an already unfocused story. Sloppy editing includes a profusion of jump cuts and intermittent woolly sound levels, which all add up to my having been relieved to finally see Rockabilly Ruhrpott's end credits.
Gray Hawk is a sixteen-minute narrative directed by Linus de Paoli that precedes Rockabilly Ruhrpott. Rock 'n' Roll is the common denominator: Hawk and son Billy are Rockabillys. Dad is a die-hard; sonny has other plans for his life, and well, they come to terms eventually. There are some funny lines and good shots (production values are better here), and English subtitles, yet this mundane story is not "big-screen" caliber. (Marinell Haegelin)