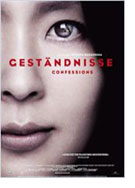 Geständnisse (Confessions, Kokuhaku)
Japan 2010
Opening 28 Jul 2011
Directed by: Tetsuya Nakashima
Writing credits: Kanae Minato, Tetsuya Nakashima
Principal actors: Takako Matsu, Yoshino Kimura, Masaki Okada, Yukito Nishii, Kaoru Fujiwara
Thirty seventh-grade students sit at their desks on the last day of school at break-time; they are drinking school milk out of boxes. They drink thirstily and eagerly, at the same time they joke with each other as seventh graders do, and send each other text messages on their phones. Their teacher, Ms Moriguchi (Takatu Matsu), is more or less ignored, although she speaks, calmly and undeterred. Suddenly, the students perk up their ears: Ms Moriguchi is explaining that she has resigned and is saying farewell by summarizing a bit from her life. She talks about her relationship with another teacher, the recognized author Sakuramiya. He is the father of her child Manami but is against marriage as he is infected with HIV. He dies a few months later, of other complications. Ms. Moriguchi raises her child alone, until one fateful day, when Manami is four years old, she is found dead in the next-door swimming pool. Ms. Moriguchi says that Manami was murdered by two students in the class – called Student A and Student B – and because of lax laws which protect youth under the age of 14, they would not suffer the death sentence, even if found guilty. Therefore, she has organized her own punishment, at the same time satisfying her need for revenge. She has put HIV bacteria into the milk of A and B, and they will suffer the consequences of their deed in a long and painful decline.
This bombshell creates turmoil in the class. The students can identify the suspects but keep mum even as the next school year begins and they meet again in the eighth grade. Their new teacher Mr. Terade, aka Werther (Masaki Okada), attempts to be a buddy and reach the students, without actually realizing what he is up against. Student A, Shuya (Yukito Nishii), strives to distinguish himself as a genius, complete with universal recognition, something which has so far eluded him. Mizuki (Ai Hashimoto) befriends him and earns a huge amount of mobbing for her efforts. Student B, Naoki (Kaoru Fujiwara), drops out of school and slowly goes insane. In the end Ms. Moriguchi should be pleased with the chaos, including three more deaths, although her deep urge for revenge can never be satiated.
After the press showing, we critics discussed opinions and impressions, but not one person was untouched by the film, whether they liked it or not. My colleague was reminded of Elephant by Gus van Sant (Columbine shooting in the U.S). I thought, rather, of The Wave – also a film about a teacher influencing a classroom to react. The film covers the topic of guilt and responsibility in young people. It also features three mothers and their accountabilities. Viewers – hopefully over 18 years old – could have long discussions about ethics, morals, revenge and responsibility at any age in both the Western and the Eastern worlds. Was the milk really poisoned, or was just the idea enough to set off repercussions? What do the clouds symbolize that move across the heavens every ten minutes or so? What about the clock that ticks backwards? Why did the soundtrack include so many songs in English (Radiohead)? I have no answers, but I do believe that after Ms. Moriguchi left school, she should not have continued to manipulate the situation; we are to believe that her pain left her no other choice.
Director Tetsuya Nakashima based his film on the best-seller of the same title, Kokuhaku, by Kanae Minato. It showed at the Toronto film festival and in Germany at the Munich film festival, won many prizes in Japan, and was an Oscar nominee as best non-English film. All actors were excellent. Philip French of The Observer said, "It's a difficult film to like, an impossible one not to grudgingly admire." It won't be everyone's cup of tea, but definitely a good source for hour-long discussions. (Becky Tan)