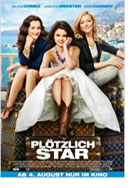 Opening 4 Aug 2011
Directed by: Thomas Bezucha
Writing credits: Thomas Bezucha, April Blair, Maria Maggenti, Kelly Bowe, Jules Bass
Principal actors: Selena Gomez, Katie Cassidy, Leighton Meester, Cory Monteith, Andie MacDowell
Every year someone happens to make a summer girly-flick, and Fox Pictures creates a cute one for a 2011 release. Film director Thomas Bezucha teams up with screenwriters April Blair, Maria Maggenti and Kelly Bowe to make an adaptation of Jules Bass' novel Headhunter for the girly-adventure in Monte Carlo. Bezucha notes that, "This story is about the experiences and memories of youth that forever affect their lives. He adds, "I felt that it (the storyline) was a meaningful and emotionally honest take of what resonates with girls this age."
A small-town realist, Grace (Selena Gomez), along with her fashion-conscious best friend Emma (Katie Cassidy), take the pomp and circumstance of their high school graduation to a new level. The two diner waitresses put their earnings toward a dream vacation to Paris, France, to escape their small-town existence for a few short weeks. As luck would have it, Grace's mother (Andie MacDowell) and soon-to-be stepfather (Brett Cullen) put a damper on the trip with the purchase of a ticket for Meg (Leighton Meester), Grace's soon-to-be older stepsister, to join the high school grads. Their idea was as that the "older and wiser" chaperone would keep the inexperienced teens in-line in spite of their mutual love-loss. Meg, annoyed at the parental guidance scheme, agrees to travel but only for selfish reasons: to take advantage of the chance of a lifetime and with the hope to come to terms with the abandonment she's felt by the death of her mother.
The girls arrive in Paris and are off to a normal start with their catty banter ranging from the shoes they wear to the city tour they chose to their interesting European accommodations. The grand illusion of the Paris vacation of their dreams unravels when they miss the tour bus at the Eiffel Tower. They must walk through the city in search of their hotel in a miserably wet thunderstorm. Money for a cab to the frugal threesome was not in the budget. Lost and cold, the girls can't bear to walk on one more cobblestone road, sopping from head to toe, so they enter a nearby hotel in search of warmth and shelter.
The hotel is one of the most elite in the city, unbeknownst to them. Their only concern is that the lobby restroom is wonderfully warm with dryers; posh and luxurious was an added benefit. Shocking is who Meg and Emma encounter in the special convenience room, while Grace is still occupied. It is a Grace look-a-like! The semblance to Grace is the very bratty British heiress, Cordelia Winthrop Scott (Gomez). Emma and Meg eavesdrop on Cordelia's restroom telephone conversation, complaining that she must attend a charity in Monte Carlo at the request of her Aunt Alicia (Catherine Tate) but her luggage did not arrive at her layover in Paris and she must return home immediately. Cordelia leaves the restroom and the hotel but stops to yell at the hotel staff for their incompetence. Grace, Meg and Emma eventually exit the restroom and attempt to leave the hotel until the staff mistakes Grace for Cordelia. They inform the girls that their luggage has arrived safely and hand over the key to the reserved suite for the night. One night of luxury and a rest is all Emma wants and strongly convinces Grace and Meg to indulge her.
Morning dawns and the girls hurriedly try to leave the hotel before their true identity is revealed. The hotel hopes to regain their positive reputation with the heiress and properly whisks the girls away to their private jet bound for Monte Carlo under the stolen identity of Cordelia Winthrop Scott. Their dream vacation begins as they seize the moment to handle Cordelia's charity engagement but must conceal their identity for a whole week. The romantic adventure is complete with available bachelors, beautiful jewelry, clothing and parties. They experience all that high society has to offer; but, these girls with heart can't masquerade with a clear conscience. Truth is revealed but not without a comedic adventure, involving endearing characters that contribute to the threesome learning serious life lessons at a very formative age (Karen Pecota)