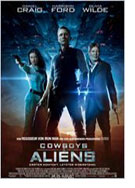 Opening 25 Aug 2011
Directed by: Jon Favreau
Writing credits: Roberto Orci, Alex Kurtzman, Damon Lindelhof, Mark Fergus, Hawk Ostby
Principal actors: Daniel Craig, Harrison Ford, Abigail Spencer, Buck Taylor, Olivia Wilde
Western goes futuristic under the direction of filmmaker Jon Favreau in the 2011 summer blockbuster Cowboys & Aliens. The creative storyline is based on Platium Studios' 2006 graphic novel Cowboys and Aliens created by Scott Mitchell Rosenberg and written by Fred Van Lente and Andrew Foley, with illustrator Dennis Calero and penciler Luciano Lima. Big Hollywood producers (Brian Grazer, Ron Howard, Alex Kurtzman, Roberto Orci, Scoot Mitchell Rosenberg, Steven Spielberg, Denis Stewart, Jon Favreau, Bobby Cohen, Randy Greenberg, Ryan Kavanaugh) collaborate on this crazy adventure to provide innovative entertainment for summertime escapism. The action thriller's stellar cast – Daniel Craig, Harrison Ford, Olivia Wilde, Sam Rockwell, Adam Beach, Paul Dano, Noah Ringer – makes the average movie fan glad he took a chance at the box office to purchase a ticket to see a strange shoot'em-up, bang-bang western flick with aliens. I know it's inconceivable, but wait until you check it out.
In the wide-open, desolate range of the New Mexico Territory in 1873 sits a handsome, rugged, half-clothed Marlborough man, Jake Lonergan (Craig) alone with his thoughts. He sits quietly and ponders his ridiculous position until he is rudely interrupted by a band of hillbilly thieves who want to steal his attractive arm bracelet. He would let them have it but he cannot remove it from his wrist. So, he must use his wits to out fox them to stay alive. He is clothed in his underwear, no gun, no boots, no horse, and no hat. Since this is the beginning of the story, he wins! And, wow! His first effort to save himself puts him in the league with the best of the action packed heroes. It's impressive!
Lonergan at least now has the opportunity to look like a cowhand with new used clothes, guns, boots, hats and horses. He chooses the best fit and off he rides into the sunset toward the nearest town called Absolution. He happens upon a little hometown ruckus but, since he is an outsider, he tries to keep to himself. As luck would have it, Lonergan is forced to settle the dispute and does so with pride – it's the Marlborough-man touch – quick and clean. The town folk are in awe of the man of mystery coming to their rescue to which they oblige, but since he looks similar to an outlaw on the Sheriff's Wanted poster, he's locked up in the jail house until further identification can be determined.
Lonergan has lost his memory. He can't recall his name or from where he has come, but the Sheriff knows. He is the man who took a large sum of gold from the town's wealthiest rancher, Colonel Dolarhyde (Ford) some years back who has been waiting to settle the score. The ol' Colonel is a mean and ruthless dude and runs the whole town with fear tactics. Oh, joy, for those people! Lonergan has one thing going for him besides his looks. His strange bracelet has more power than any gun he ever used. His piece of exotic jewelry showed its stuff when Lonergan and Dolarhyde's son were being hauled away to Federal Court. In the midst of the Colonel attempting to break his son out of jail, Lonergan's bracelet started to light up and out of nowhere weird flying aliens began to cast fire on the town. The aliens captured many people including Dolarhyde's son, Percy (Dano). Lonergan uses the bracelet's powerful light beams to combat the aliens and shows off his heroics for the second time.
Frightened by strange creatures, the people of Absolution realize that Lonergan is their hope for survival and will do anything for him. Lonergan begins to remember information that connects him to a secret world of research run by the aliens. Lonergan is the only one who holds the key to saving a whole western territory and its people – townsfolk, Indians, outlaws – from extinction and giving them a fighting chance to defeat the alien force. In the name of survival, salvation and redemption, Lonergan, along with his friends and enemies unite for a showdown that will reveal the survival of the fittest, western alien style. Yawh Hoo Rawhide, ride'em aliens! (Karen Pecota)