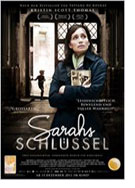 Sarahs Schlüssel (Sarah's Key, Elle s'appelait Sarah)
France 2010
Opening 15 Dec 2011
Directed by: Gilles Paquet-Brenner
Writing credits: Gilles Paquet-Brenner, Tatiana De Rosnay, Serge Joncour
Principal actors: Kristin Scott Thomas, Mélusine Mayance, Niels Arestrup, Frédéric Pierrot, Michel Duchaussoy
The year is 2009. Julia (Kristin Scott Thomas) is an American journalist in Paris married to a Frenchman and is assigned to research the 1942 roundup of French Jews and their forced stay at the Vélodrome d'Hiver (a large arena) under insufferable conditions before being sent on to camps. So this is not just another Nazi movie. It is the plight of the Jews in France who were rounded up by the French police themselves. Thus begin two intertwined stories of two French families.
When ten-year-old Sarah's family is arrested, she locks her little brother Michel in a closet, assuming that they will be home soon to let him out. She doesn't get home until she escapes from the camp and never gets over Michel's death. Although she has the good luck of being taken in and cared for like a daughter by a provincial French family, her survival and guílt rule her life thereafter.
During the course of her research, Julia opens up a family secret. The very apartment her husband's family owns and is remodeling for them to move into turns out to be the apartment in which Michel died. The events of the "Vél d'Hiver" and the researching in order to find out what happened to Sarah and her family since the war become personal. Sarah's story has such an impact on her that her own life changes drastically. The film ends with a very emotional, very believable moment.
The film is based on the novel by Tatiana de Rosnay. (Thelma Freedman)