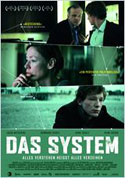 Das System - Alles verstehen heißt alles verzeihen
Germany 2011
Opening 12 Jan 2012
Directed by: Marc Bauder
Writing credits: Dörte Franke, Khyana El Bitar
Principal actors: Jacob Matschenz, Bernhard Schütz, Jenny Schily, Heinz Hoenig, Florian Renner
Mike (Jacob Matschenz) is a fatherless, scruffy twenty-year-old kid in a hoody, a juvenile petty thief living in the moment in a socialist-built apartment block in Rostock. One night Mike and his best friend Dustin (Florian Renner) are bored and break into the luxurious home of Konrad Böhm (Bernhard Schütz), assuming he is not at home. They spy his golf clubs and capriciously begin to duel with them until they see Konrad standing in the doorway. They gleefully escape not realizing Konrad has recognized Mike. It seems Konrad has been keeping a watchful, paternal eye, on Mike for years. The next day Konrad finds Mike, and instead of turning him over to the police, the successful entrepreneur offers him a job as his personal assistant. Mike is given a sleek and a little too shiny suit to wear. He is introduced to Konrad's circle of former Stasi contacts: a network of both bristly old men living out the end of their days in garden colonies (like Jürgen Holtz as Zschernigk) and cultivated middle-age businessmen (including Heinz Hoenig as Herbert Tieschky), who have seamlessly converted from Marxism to capitalism.
Konrad is in the middle of a project, unscrupulously determined to get in on the huge profits from the building of the gas pipeline from Russia to the Baltic Sea. In the background of one scene there is a television on showing a news broadcast of a smiling Gerhard Schröder and Gazprom pipeline lobbyists, not too subtly depicting the entanglement of politicians, power, and money. Mike is totally in awe of Konrad's opulent lifestyle and fascinated by his ruthless power-wielding tactics. Konrad entraps him at another level. He shows him home movies of Mike as a baby with his father Rolf, mother Elke (Jenny Schily), and Konrad, truly moving for the young man who doesn't remember his own father. Were it not for Konrad's frequent unsettling questions about Mike's mother. Were his mother not so adamant about Mike staying clear of Konrad. What about Konrad's admission that Mike's dead father Rolf had been Konrad's best friend? How did Rolf really die?
This is not a political thriller in the sense of two opposing political systems clashing with each other; communism and capitalism are irrelevant. It's all about the underbelly of raw power: lying, corruption, coercion, bribery, blackmail, greed, and murder. It's also a coming-of-age film where Mike, brilliantly played by Jacob Matschenz, has to make some decisions as he moves beyond his lost innocence into a harsh unforgiving world.
When the final credits are being rolled at the end of the film, the audience is privy to a news broadcast showing Merkel, Medvedev, and Oettinger sitting cozily together. Not long ago, on November 8, President Medvedev and Chancellor Merkel launched the first line of the new Nord Stream pipeline, a pipeline that delivers gas directly from Russia to Germany. On the screen at the beginning of the film it is claimed that the plot and characters in the movie are fictional. So in the real political world of 2011 just who were the players, profit makers and powerbrokers behind this deal? Just how many Konrads did it take to build the Nord Stream pipeline? Directed by Marc Bauder. (Pat Frickey)