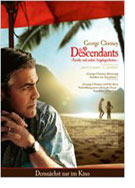 The Descendants - Familie und andere Angelegenheiten (The Descendants)
U.S.A. 2011
Opening 26 Jan 2012
Directed by: Alexander Payne
Writing credits: Alexander Payne, Nat Faxon, Jim Rath, Kaui Hart Hemmings
Principal actors: George Clooney, Shailene Woodley, Amara Miller, Nick Krause, Patricia Hastie
Matt (George Clooney) is in over his head: an emotionally absent father for at least the past seven years, suddenly 10-year-old Scottie (Amara Miller) is totally his responsibility. Desperate, he takes 17-year-old Alexandra (Shailene Woodley) out of an exclusive boarding school to help. Insistent that her friend Sid (Nick Krause) be there as an ally, Alex concedes her flawed family is facing a catastrophe. Following a speedboat accident Elizabeth, wife and mother, is in a coma.
The parallel storyline involves the King family: direct descendents of Hawaiian royalty since the 1860s, they own 25,000 acres of pristine coastal land on Kauai, protected by a land trust set to expire in seven years due to a recently passed law. Since his father's death, Matt is the Trustee, and although some of the many cousins do not want to sell the land, the more profligate members do. Of the many sharks circling to purchase the property, the family is leaning toward a home-grown land-development company.
Matt insisted, as his father had, that the family live within their means, much to Liz's chagrin. This comes back to haunt him as his father-in-law Scott (Robert Forster) expresses his grief. Alex turns on Matt, belatedly realizing he is clueless that Liz has been having an affair; their best friends Kai (Mary Birdsong) and Mark (Rob Huebel) tell him the "other guy" is real estate broker Brian (Matthew Lillard). With his daughters and Sid in tow, they fly from Oahu to Kauai where Matt plans to confront Brian, and, he inadvertently discovers Brian works for the Kauai-based development company. From that point on, events escalate.
Based on a novel by Kaui Hart Hemmings, director Alexander Payne (Sideways) did not make the decision which storyline to focus on, effectively eliminating a single conflict's climax necessary for a good yarn: the resolutions are anticlimactic. With solid support from Phedon Papamichael's cinematography and Kevin Tent's editing, Payne does, however, massage the finesse of facial and physical nuances from the thespians. The betrayals and truths told are best conveyed through such subtlety, wherefore The Descendants does not descend into indulgent melodrama. (Marinell Haegelin)


Second Opinion

Hell can reach you in paradise: Matt King (Clooney), a successful lawyer, lives a privileged life on a picture perfect estate on Hawaii, when a boating accident leaves his wife in vegetative state. All at once he has to face taking her off life support, finding out that she cheated on him, and that his busy life had not only estranged him from her but from his two daughters, 10-year-old Scottie (Miller) and 17-year-old Alex (Woodley).
This theme – directed and co-written by Alexander Payne of Sideways and About Schmidt – has been central to more than one movie or soap; unfortunately this version – after a book by Kaui Hart Hennings – has nothing meaningful to add. The new twist here is that he tracks down his wife's lover with the help of his older daughter – neither probable nor convincing as a 'bonding experience'. But it's only a movie: Matt and his outwardly abrasive teenage daughter lay the groundwork for a new beginning. All the while Matt is dealing with his truly terrifying kids and Alex's friend who tags along (with his broad grin and demeanor in an unflattering way like a young Schwarzenegger), he also has to tend to the business of being the sole trustee of a large property on Kauai, that he and his cousins – all descendants of Hawaiian royalty – inherited. In deciding whether to keep the land or sell for a tremendous profit, he realizes that it is not only important to repair his connection to the present, but also to the past.
Clooney is convincing except for a few scenes in which he is misdirected to act like a clown, when he stalks the ex-lover of his wife. Woodley – much like a young Laura Linney – is worth watching. (Carola A)