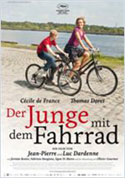 Der Junge mit dem Fahrrad (The Kid with a Bike, Le gamin au vélo)
Belgium/France/Italy 2011
Opening 9 Feb 2012
Directed by: Jean-Pierre Dardenne
Writing credits: Jean-Pierre Dardenne, Luc Dardenne
Principal actors: Thomas Doret, Cécile de France, Jérémie Renier, Fabrizio Rongione, Egon Di Mateo
From the very beginning it's clear that Cyril is traumatized from the separation of his father, although he focuses on the loss of his bicycle. Despite the fact that he's been placed in an orphanage, he makes every attempt possible to escape to find his father. He refuses to accept that his father has sold everything and has dumped him there with the resolution never to return. At one point he manages to return to the complex where he had lived and finds out that indeed his father has moved on without leaving any information to his whereabouts and at the same time connects with a hairdresser who decides to help him. Where all this will take them is uncertain, but she boldly decides to intervene and try to save this boy.
This film leaves this impression of biting into a bittersweet apple where the aftertaste stings the tongue. A year ago I might not have been so moved by this film as I am now. This Christmas I watched a man move out, leaving his family, refusing to give them money and not telling them where his has gone, just leaving them to fend for themselves. It so hard to believe but somehow it happens. This film helped me to understand the emotional impact of such destructive and egotistical actions. This two-man team, Jean-Pierre and Luc Dardenne, not only directed but produced and wrote the script for this film, which won best script at the Cannes Film festival in 2011 and rightly so. They described this essence of abandonment to its fullest but at the same time shed a glimmer of hope when someone is willing to reach out and help, despite the difficult path. (Shelly Schoeneshoefer)


Second Opinion

Twelve-year-old Cyril (Thomas Doret) has been put in an orphanage. His father (Jérémie Renier) needs to get his life back together and has promised to pick him up in a month's time. But he won't. Cyril refuses to believe his caretakers that his father has no intentions to take him back. Desperate to prove them wrong he escapes from the home, only to find that his father left his last known residence without leaving a forwarding address. When the social workers catch up with Cyril there, a chase entails; they have to wrestle him a away from Samantha (Cécile De France), a thirty-something hairdresser who just happens to be 'at the right place at the right time'; he clings to her in a desperate attempt to avoid being taken back. She takes an interest in the boy and agrees to a weekend guardianship. Together they will track down and confront his father and weather Cyril's run-ins with the law. There can't be any illusion that the boy is only seeking to stay with Samantha, because she is the only help at hand. Only after all these 'detours' a friendship between the two of them might eventually develop.
The film – in a good way almost documentary – avoids painting anything too "black or white": the orphanage isn't a 'horrible place of torture' populated by mean caretakers; the father elicits neither great pity for his situation nor disgust for the indifference and cowardly attitude towards his son. A hand-held camera was used exactly where it made sense. No music at all would have been fine; the choice of Beethoven as a 'garnish' – however sparingly used – feels out of place. The boy remains as hard to read, as kids tend to during these mysterious pre-teen years; the facts of his difficult childhood speak for themselves. What shouldn't stay a mystery though, is why Samantha takes Cyril on and – considering his behavior – why she stands by him, even willie-nillie giving up her boyfriend over him. Without making this comprehensible, this (award winning) film remains unsatisfactory, even pointless. (Carola A)