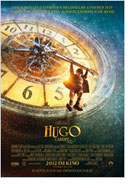 Opening 9 Feb 2012
Directed by: Martin Scorsese
Writing credits: John Logan, Brian Selznick
Principal actors: Ben Kingsley, Sacha Baron Cohen, Asa Butterfield, Chloë Grace Moretz, Ray Winstone
Fasten your seatbelts for a magical ride. The moment the film begins you are instantly a consenting captive drawn into the enchanted world of the young orphan boy Hugo (Asa Butterfield) living a secret life in Gare Montparnasse in Paris in the 1930s. There's not a moment to decide whether or not you're a fan of 3D movies. There's no awkward phase of sitting awhile in the movie theater waiting desperately for the suspension of disbelief to take hold. You are immediately THERE in Gare Montparnasse joining Hugo racing along hallways, climbing up and down ladders, and sliding down chains into the innards of the stations' clocks. So much happens in the first few minutes, you have no chance, or desire, to escape the spell of a whimsical adventure brilliantly brought to the silver screen in eye popping 3D by Martin Scorsese.
Hugo is really two stories brilliantly meshed into one. Based on Brian Selznick's illustrated children's novel The Invention of Hugo Cabret, Hugo is a twelve year old orphan who lives in a secret room behind the façade of the large railway station clock of Gare Montparnasse. Abandoned by his drunken uncle, the station's timekeeper, it is up to him to anonymously keep the station's clocks wound, working, and on-time. He had learned these skills from his clockmaker father (Jude Law), who had died mysteriously in a museum fire. The only things Hugo has inherited are a broken automaton, a clockwork robot which they had tried to repair together when his father was still alive, and his father's notebook which contains sketches of the automaton. Hugo is convinced that if he can just fix the automaton, it will reveal a secret message from his father. To survive, he has to snatch his meals in the station while dodging the sadistic station inspector (Sacha Baron Cohen) and his vicious dog. To repair the automaton he has to surreptitiously steal clockwork parts from the toy shop of an elderly misanthropic toymaker Georges (Ben Kingsley). One day the embittered old man catches Hugo red-handed and forces him to empty his pockets and turn over the precious notebook. Unbeknownst to either of them this is the crucial moment when Georges' mysterious past linked together with the secrets of the automaton starts to unravel. For us, this is the pivotal moment when the second part of this brilliant magical ride begins.
We gradually discover, along with Hugo and his new found friend, Isabelle (Chloe Grace Moretz), Georges' goddaughter, just who this cantankerous old toymaker is, Georges Méliès. Cinephiles will immediately recognize Méliès as one of the fathers of film itself, a pioneer French filmmaker who produced more than five hundred movies between 1896 and 1913. He is the creator of A Trip to the Moon, the iconic film in which a rocket becomes embedded in the eye of the moon. Tragically Méliès, long believed to be dead, had become bankrupt and spends his retirement eking out a living selling toys in Gare Montparnasse. Hugo and Isabelle embark on an adventure, first to discover her godfather's identity, then to prod him to humbly embrace then joyfully celebrate his illustrious past. On their journey they discover Isabel (literally) has the key to the mystery of Hugo's automaton.
Martin Scorsese has written a love letter, a beautiful tribute to the power and history of film. He reconstructs Méliès glasshouse studio in Montreuil and remakes scenes of his movies. He even playfully puts himself as a cameraman in one shot. Scattered throughout Hugo are tributes to other masters of early cinema. Scorsese recreates the Lumière brothers early screening of L'Arrivee d'un train en gare de La Ciotat, in which audiences are so astonished to see a train approaching onscreen that they leap out of their seats. In another homage to silent film Hugo and Isabelle sneak into the movie Safety Last in which Harold Lloyd hangs from the hands of a giant clock – an image soon to be repeated by Hugo himself in a desperate attempt to escape from the station inspector's clutches.
There is one scene late in the film when Méliès starts describing his own life and works, when swoosh, some of the magic is gone. Oddly when Méliès is given a voice, his aura diminishes, and he becomes just a disillusioned old man. Fortunately this moment passes quickly, and when Méliès is again the silent movie director, the magic returns.
This visually spectacular movie takes childhood wonder, mixes it together with an old man's cynicism, and voilà, turns it into an exuberant and spellbinding film. Georges Méliès sadly laments to Hugo, "My life has taught me happy endings only happen in the movies". But wait and see, sometimes life does imitate the movies. Film lover Scorsese wouldn't have it any other way. (Pat Frickey)