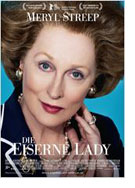 Die Eiserne Lady (The Iron Lady)
U.K./France 2011
Opening 1 Mar 2012
Directed by: Phyllida Lloyd
Writing credits: Abi Morgan
Principal actors: Meryl Streep, Jim Broadbent, Susan Brown, Alice da Cunha, Phoebe Waller-Bridge
Oliver Cromwell, also a Parliamentarian, said, "… paint me warts and all." Abi Morgan's screenplay under Phyllida Lloyd's direction is a perceptive portrait of Lady Margaret Thatcher, UK's first female Prime Minister. We watch her over-turn the entrenched "old boy" barriers as she ambitiously claws her way to the top rung in male-dominated politics. Most surprisingly, Thatcher's "warts" are also exposed: the price she paid for power, privately and professionally, and her personality evolvement to that of over-bearing egocentricity.
Meryl Streep's Margaret Thatcher is precision personified: after having seen countless news broadcasts with PM Thatcher throughout her tenure, the differentiation between her and Streep's performance is negligible, and garnered Streep the 2012 Golden Globe for Best Actress in a Motion Picture Drama, as well as an Academy Award®. When filming the opening scene as the old MT, Streep was mingling in the crowd and the paparazzi totally overlooked her. Excellent casting by Nina Gold unites a superb cast: Jim Broadbent's balanced portrayal of Denis Thatcher and his unconditional support at several stages of adulthood and Harry Lloyd as the young, wealthy and wooing Denis. Iain Glen is arresting as Alfred Roberts, as is Alexandra Roach as young Margaret Roberts. Nicholas Farrell as Airey Neave, John Sessions as Edward Heath, Richard Syms as House of Commons Speaker, Roger Allam as Gordon Reece, Olivia Colman as daughter Carol Thatcher, et al.
Justine Wright edits the film in three time periods: the present Thatcher, now 86, and an unflinching portrait of dementia-related confusion inviting her flashbacks; the young lower-middle-class Thatcher in Grantham, Lincolnshire; the shrewd Thatcher entering politics and as PM, including her most "steady the buffs" crises – the Falkland's war in 1982, the Thatchers' surviving a 1984 Provisional IRA bombing as well as the 1984-5 miner's strike in northern England, and the 1990 rioting against the Poll Tax. Wright deftly blends in archival footage, and his transitions are noteworthy. Cinematography by Elliot Davis is flawless, with Thomas Newman's characteristically good original music.
The film has caused quite a stir in England: David Cameron, sitting PM, praises Streep's performance as "fantastic" but wonders why it was made during Baroness Thatcher's lifetime. Not having accepted an invitation to see the film, nevertheless Lord Heseltine, played by Richard E Grant, says, "I think it is extremely distasteful. …It is a commercial product that will benefit from its depiction of Lady Thatcher suffering from a very serious illness. …She played a significant role during her Premiership, yet the film is concentrating on one rather unfortunate aspect. It is just tasteless." He really should have seen the film before passing judgment. Lord Geoffrey Howe (Anthony Head), former Chancellor and Deputy Prime Minister did not comment following a screening. Former Defense Secretary Sir John Nott (Angus Wright), and a ten-year Thatcher veteran Lord Crickhowell (Nicholas Edwards) envisage seeing the film, although the later questions its appropriateness.
Ms. Lloyd realized the gamble of centering a biopic around a living octogenarian from the outset: "…MT's frailty is all our frailties, her forgetfulness our forgetfulness. We are all on a journey to diminished power. Whatever the sum of our achievements, sooner or later someone is going to elbow us aside in a corner shop." The Iron Lady may be Thatcher's greatest legacy: she split the country at the height of her power – in the North political detractors are picketing the film, yet this poignant version of the crumpled Lady shows the debilitating effect of dementia with compassion, and might just extract empathy from her most stalwart critics. (Marinell Haegelin)