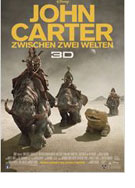 John Carter - Zwischen zwei Welten (John Carter)
U.S.A. 2012
Opening 8 Mar 2012
Directed by: Andrew Stanton
Writing credits: Andrew Stanton, Mark Andrews, Michael Chabon, Edgar Rice Burroughs
Principal actors: Taylor Kitsch, Lynn Collins, Willem Dafoe, Samantha Morton, Thomas Hayden Church
Walt Disney Pictures commemorates the 100th anniversary of American writer Edgar Rice Burroughs' fictional heroic character Captain John Carter (Taylor Kitsch) in John Carter. It is hard to comprehend that Burroughs breathed life into the American Civil War Captain as the first space hero in a book series a century ago. A salute to an incredible imagination!
Academy Award®-winning director/writer Andrew Stanton was inspired to bring the first novel in Burroughs' Barsoom series, A Princess of Mars, to the big screen for its action-packed adventure. Stanton recalls, "Reading the books when I was a boy, I fell in love with the concept of a human finding himself on Mars, among amazing creatures in a strange new world. It was a very romantic aspect of adventure and science fiction. I always thought it would be cool to see this realized on the big screen."
Burroughs, the creator of Tarzan, has entertained generations for more than a century with his literary imaginative creations. He has truly influenced and inspired some of the world's celebrated artists and filmmakers in the likes of science fiction writers Robert A. Heinlein, Arthur C. Clarke and Ray Bradbury; filmmakers James Cameron (Avatar), George Lucas (Star Wars), Andrew Stanton (John Carter 3D); writer Michael Crichton, and scientist Carl Sagan. In their company are a large number of creative designers in the field of production, costuming, visual effects, special effects and animators.
In 1881, the wealthy John Carter from New York City mysteriously dies too early for his time. Summoned to hear the reading of the will at Carter's estate is his nephew Ned Burroughs, the sole heir of his estate. Ned has only known Carter as his Uncle Jack and is thoroughly confused about his uncle's name, death and his fortune. Ned is, furthermore, overwhelmed by the will's precise detailed instructions given to him by Uncle Jack. The last item the lawyers of the estate pass off to Ned is his uncle's locked leather-bound journal meant for Ned's eyes only. Left alone to ponder the implications of his inheritance Ned longs for the presence of his uncle. In Ned's state of mourning, he recalls Uncle Jack's ability to tell amazing stories. He grabs the key to unlock the hand-scripted document and is stunned to see the journal begins with the words: My dearest nephew Ned.
The account meant for his eyes only develops as no surprise to Ned because it reads like another one of Uncle Jack's adventure tales he listened to as a child. Carter survives the American Civil War and in pursuit of prospecting gold in the Arizona Mountain Range in 1868, the Apache Indians attack and chase him along with a U.S. cavalry gentleman. Carter hides the two in a cave that turns out to be lined with solid gold rock. The moment Carter tries to touch the gold he is transformed to a strange desert place, called Barsoom (Mars) facing the Green Martians known as Tharks: tall, skinny, Gecko-like creatures with four arms. Held hostage by the alien beings, Carter finds it easy to escape their clutches using his new super human powers of strength and agility given him upon entering the foreign world at which they are impressed. A friendship develops between Carter and the Green Martian chief, Tars Tarkas (William Defoe). In exchange for a transportation ride back to his earthly homeland, the Gecko people ask Carter for help save their planet from extinction by using his super powers for aid. Carter agrees and faces nine human years of adventure on Barsoom. Carter survives a battery of wars against varied aliens, human-like beings, and three all-powerful creatures to destroy evil and finds true love with a Red Martian who is actually a Princess of the civilization of Helium, Dejah Thoris (Lynn Collins).
Coined with an inconceivable story, Ned finds that near the end of the journal Uncle Jack explains the reality of his accumulated wealth and the reason for his absence from Ned's life for the past thirteen years in Uncle Jack's recorded family confession. As fate would have it, and before Uncle Jack's hand-written words come to a close, Ned is called upon to unlock one last door that opens up the veracity of Uncle Jack's perilous life on Mars, which Carter is banking on to transpire. (Karen Pecota)