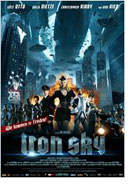 Opening 5 Apr 2012
Directed by: Timo Vuorensola
Writing credits: Johanna Sinisalo, Jarmo Puskala, Michael Kalesniko
Principal actors: Julia Dietze, Udo Kier, Kym Jackson, Peta Sergeant, Stephanie Paul
Hey, do you gals have any idea what is on the dark side of the moon? Well I and the lady president of the U.S. in 2018 who is a Sarah Palin (Stephanie Paul) look-alike can certainly tell you that without a doubt the Nazis are there and plan to take over the world this time. This science-fiction, low-budget spoof started off with a trailer in 2008 at the Cannes Film Festival in search of financial help. The Finnish director Timo Vuorensola had a unique concept for marketed involving some 27 different financial companies plus an Iron Sky online community which has helped raise funds to make this film happen. The film's budget was 7.5 million Euros and 6.3 million came from traditional funding where the remaining comes from crowd funding. To understand all this, there is a great website under Iron Sky which explains everything in detail. I did notice in the financial section as an American citizen we were not allowed to participate due to legal agreements. Nevertheless this film is a forerunner to a new wave of independent movies where the public can participate in the creative and the financial part of producing a film.
The film opens as the U.S. once again lands on the moon, this time as part of a re-election presidential campaign slogan, "Yes she can," and a propaganda plan called "Black to the Moon" which includes one of the "brothers," James Washington (Christopher Kirby). He is soon captured by the Nazis of the fourth Reich who are planning to invade and conquer the world and have the fleet to do it right this time. Renate Richter (Julia Dietze) the naïve school teacher tries to save Washington's life and soon they are paired up against this evil empire and save the world. No doubt this film will become a cult classic. It has all the right ingredients from Charlie Chaplin to a mad scientist (Udo Kier) who looks like Albert Einstein and spaceships which look like the Millennium Falcon from Star Wars. This film is hilariously funny and will keep you laughing until the end of the world has come and gone. This film ends with a great message to the world. (Shelly Schoeneshoefer)


Second Opinion

This Finland/Australia/Germany co-production gives a new interpretation to the amalgamation of sci-fi camp / political satire / black humor filmmaking. The tantalizing premise of Iron Sky is that, after 70-years, unsuspecting astronaut cum model James Washington (Christopher Kirby) lands almost on top of a Nazi base established on the dark side of the moon in 1945. The Moon Führer (Udo Kier) is scornful of Washington's claim it is merely a publicity stunt authorized by the US President (Stephanie Paul – I dare you not to think of Sarah Palin as you watch). Thinking the time has come to attack Earth, he is almost salivating to commence, whereas mad scientist Doktor Richter (Tilo Prückner) obsesses over new technology Washington has that enables their ultimate flying machine to sputter to life, and, with transforming Washington into an Aryan. To prepare for their ultimate invasion, the cruel, merciless and fanatical Nazi officer Klaus Adler (Götz Otto) is sent to Earth; upon landing he discovers onboard his love, the Doktor's idealistic daughter Renate (Julia Dietze). Never you mind, together they shall conquer Earth. Is this possible? Do they?
A core group of Finns is giving a new interpretation to, and reinventing filmmaking, through communal moviemaking. Partly financing and funding Iron Sky through crowd contributions, director Timo Vuorensola with an original story from Johanna Sinisalo, based on Jarmo Puskala's original concept, and Michael Kalesniko's screenplay do not disappoint. This is nothing new for Vuorensola: added to the team led by Samuli Torssonen, creator and producer, his first feature-length film Star Wreck: In the Pirkinning, a sci-fi (Finland's first) parody, utilized over 300 extras, assistants and supporters. Star Wreck was initially self published online before taking off – literally – on DVD and on TV in Finland, Italy, and Belgium but never in theatres, and can still be seen in its entirety on YouTube. These guys prove that anything is possible; see Iron Sky to learn about what could happen in a few years. And keep your eye on these Finns. (Marinell Haegelin)