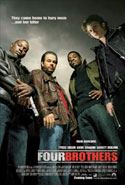 Vier Brüder (Four Brothers)
U.S.A. 2005
Opening 10 Nov 2005
Directed by: John Singleton
Writing credits: David Elliot, Paul Lovett
Principal actors: Mark Wahlberg, Tyrese Gibson, André Benjamin, Garrett Hedlund, Terrence Howard
A ruthless and bloody tale of revenge directed by John Singleton (2 Fast 2 Furious) and starring Mark Wahlberg, Garrett Hedlund, Andre Benjamin and Tyrese Gibson.
The Mercer brothers, Bobby (Wahlberg), Jeremiah (Benjamin), Angel (Gibson) and Jack (Hedlund) are back in town for their mother's funeral. They were Evelyn Mercer's (Fionnula Flanagan) foster children, the cases that no one else would take, and grew up together under her strict but loving hand. At first, Evelyn's death was taken to be a tragic case of being in the wrong place – a drugstore – at the wrong time – during an armed robbery; even so, as the four brothers reckon that the police are not reacting fast enough, they decide to take things in their own hands, soon discovering that nothing is as it seems. The unraveling threads lead all the way to one of the city's biggest gangsters.
The strongest point of Four Brothers is, undoubtedly, the relationship between the siblings. Bobby is an ex-convict who gives little thought to the consequences of his actions; Jeremiah has built up a respectable life and has big plans; Angel is an ex-soldier who loves his women; and Jack is a wanna-be rock star. However different they are (including the colour of their skins), they manage to convince us that they grew up as one family and are held together by a very strong bond. The bantering dialogue between them is very credible, as is, unfortunately, the harsh violence and apparent need for revenge that quickly becomes the main feature of the movie.
Four Brothers is not a film for the faint-hearted, but rather for those who enjoy raw, tough movies like Fargo. (Osanna Vaughn)