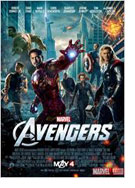 Marvel's The Avengers (The Avengers)
U.S.A. 2012
Opening 26 Apr 2012
Directed by: Joss Whedon
Writing credits: Zak Penn, Joss Whedon, Stan Lee, Jack Kirby
Principal actors: Robert Downey Jr., Chris Evans, Scarlett Johansson, Mark Ruffalo, Chris Hemsworth
Marvel's The Avengers has been in gestation since 2008: Producer Kevin Feige's idea to include the peacekeeping organization S.H.I.E.L.D. in both Iron Man and The Incredible Hulk paid off. Following Iron Man's end credits (released two months earlier than Hulk), our clue is meeting SHIELD's director, Nick Fury (Samuel L. Jackson), whose surprise visit to Tony Stark / Iron Man (Robert Downey Jr.) is to discuss the Avengers Initiative. With both films' success, Feige, Marvel Studios, and Universal Pictures had the confidence to move forward with the (1st of ?) ultimate super-hero film.
Thor and Captain America: The First Avenger were hits when released in 2011, fueling public desire for The Avengers, which simultaneously was in production. In September 1963 the Marvel team of Stan Lee, editor-writer, and freelance artist Jack Kirby, first introduced the Avenger team. Building on this, Feige expresses how the individuality of each film is combined with Marvel's signature - action, adventure, extremely intense scenes, and audience gratification - and how impressed he is with Joss Whedon's skillful screenplay that integrates the various and unique personalities.
When the misguided god Loki (Tom Hiddleston) shows up promising Fury a war so Loki can take control of Earth by purloining 'Tesseract', the ultimate harness of energy in space, Fury barely escapes. He calls for a team to meet onboard Helicarrier, the central command of SHIELD. Agent Phil Coulson (Clark Gregg), Fury's "good-eye" assistant and also in Iron Man, assists tirelessly in recruiting these unlikely rascals, and helping to keep them in check: Clint Barton / Hawkeye (Jeremy Renner), Natasha Romanoff / Black Widow (Scarlett Johansson), Bruce Banner / The Hulk (Mark Ruffalo), Steve Rogers / Captain America (Chris Evans), and Iron Man. While drafting the super-heroes, Loki's brother Thor (Chris Hemsworth) inadvertently joins the Team. Pepper Potts (Gwyneth Paltrow) helps sway Tony into joining, and a glitch along the way includes SHIELD's Professor Erik Selvig (Stellan Skarsgård).
The film's rather docile start, i.e. introducing to anyone in the audience who might not know these characters, escalates to conflict that is… mind-boggling seems an appropriate word. The superheroes, with appreciable one-line-puns throughout the film, respond when Fury pushes their buttons to pull out the best in each, as a team, "…died believing in that idea, in heroes…well, it's an old fashioned idea…". With lightening speed, as the action mounts, we swing from one skirmish to another; editors Jeffrey Ford and Lisa Lassek are to be commended keeping abreast of Seamus McGarvey's cinematography, and seamlessly integrating the computer graphics from teams that span continents. The cast is excellent; each actor agreed to this group flick when they signed on for the individual superhero role, i.e. film. Equally interesting is that the Helicarrier took 14-weeks to construct at a film studio in Albuquerque, New Mexico, and other primary filming locations were Cleveland, Ohio and New York City. Marvel's The Avengers, in Disney Digital 3D, is an excitingly fun adventure, and, taking the lead from Marvel's Lee and Kirby, look for the clue at the very end. (Marinell Haegelin)