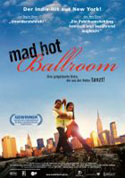 Opening 27 Oct 2005
Directed by: Marilyn Agrelo
Writing credits: Amy Sewell

"Anyone can make it if they learn how to shake it" was the slogan given to an experimental project to teach children from the Bronx to dance – ballroom-style. The goal of the project was to see if these kids could learn to do something that was incredibly foreign to them and succeed. The school district was interested in finding an attractive venue that would teach children the value of learning, to encourage them to stay in school and to stress that a good education is valuable for their future.
In 1994, three elementary schools were chosen from the New York public school district to participate in this pilot project. Among these three schools, only the 5th graders were allowed to participate. This was not an easy experience for most of the children, but those who entered the program and finished the task of learning how to ballroom dance were stricken with a passion to make a difference in their world.
Due to the success of this project, today, in the city of New York, over 6,000 elementary school children among sixty schools now take ballroom dancing lessons. Many of these kids go on to perform in the yearly city dance competition. Most are just grateful to have experienced this program. Whatever the outcome, the moves of ballroom dance such as the Foxtrot, Meringue, Swing, Rumba and Tango put a step into these kids' life forever that will be a precursor that will challenge their passions. These teachers who go the extra mile to bring a glimmer of hope to their children also silently encourage them to step outside their national ghetto box in order to see a different side of the world.
This brilliant documentary stirred my emotional tank from A to Z. As the audience was led through the process of teaching these kids the various dancing steps, I found myself wanting to head to the nearest theater isle to practice too. Oh, this is a must-see film and so funny! Ballroom is in my blood now….A-one, two, three, four…… (Karen Pecota)