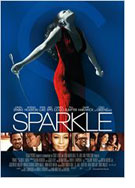 Opening 11 Oct 2012
Directed by: Salim Akil
Writing credits: Mara Brock Akil, Joel Schumacher, Howard Rosenman
Principal actors: Jordin Sparks, Carmen Ejogo, Whitney Houston, Derek Luke, Mike Epps
The 2012 musical feature film Sparkle from filmmaker Salim Akil and screenwriters Mara Brock Akil and Howard Rosenman is a remake. The original Sparkle storyline was inspired by The Supremes and had its silver screen debut in 1976, about the journey of three sisters from Harlem establishing a girl group and musical style in the 1950s. The 2012 remake takes place in Detroit, Michigan, in the 1960s during the rise of Motown. Few changes were made from the original Sparkle and the film's solid message of redemption remains intact. The strong message is what drew Bishop T.D. Jakes to the storyline as executive producer.
Several of America's clergy who pastor large congregations are getting into the film business, big time. Bishop T.D. Jakes, pastor of a 30,000-member congregation in Dallas, Texas, is among the ranks of clergy making a mark in tinsel town, and Sparkle is his fifth film project.
Another person celebrating a fifth film debut with Sparkle was the late and famous entertainer Whitney Houston. Her role in the film wrapped three months before her untimely death on February 11, 2012. The film is dedicated to her memory. Whitney was a young girl when Sparkle was originally released. The story influenced her greatly and years later she purchased the rights in the mid-1990s from Warner Brothers Studio Pictures for a remake under Houston and Chase's production company Brown-House Productions. Houston loved the film so much she recalls going to see the film every day for one solid week. She claims it was her inspiration to go after her dream to be a singer. Houston performs two songs in the film's remake, one being the famous hymn "His Eye is On the Sparrow," a Whitney favorite.
Sparkle's original music from the 1976 silver screen feature was written by soul musician Curtis Mayfield. The remake of the film Sparkle features songs from original film combined with new music from R & B artist R. Kelly. In addition, Sparkle is American Idol winner Jordin Sparks's first acting in a musical debut.
Synopsis:
Three beautiful and musically talented teenagers (the Anderson sisters) enter a singing contest in attempt to jump start a singing career as a famous girl group in the 1960s in Detroit, Michigan, during the rise of Motown. The girls must keep the plan secret from their mother, Emma Anderson (Whitney Houston), because she would not approve. Emma's professional singing career nearly killed her and the girls know her story inside and out. Emma raises her daughters to understand the pitfalls of the entertainment world to which they are a witness and holds a tight rein on them as a single mother. But, Life is complicated. Talent is talent! Emma knows each daughter's special talents and all three girls are not only beautiful but musically inclined, taking after her side of the family. Oh, Lord have mercy!
Sparkle (Jordin Sparks), the youngest sister, dreams of being a famous singer but is shy and modest. She is most comfortable as a backup for her older sister. Her main skill is writing songs. In their humble beginnings, the girls are lucky enough to sing all original music written by Sparkle that they use in their underground performances. The oldest is Tammie (the family calls Sister). She is a true entertainer and aspires to put herself on the map. Deloris (Dee) is the middle child who aspires to become a doctor and only goes along with the other two sisters to make as much money as she can to pay for school.
Stix (Derek Luke) is an aspiring talent scout who discovers the girls at the sponsoring night club of the singing contest. While staying with this cousin, Levi (Omar Hardwick), Stix discovers the girls attend the same church and sing in the main church choir. As luck would have it, Stix has his eye on Sparkle and loves her character. He believes in her talent as a songwriter and is convinced that she can produce record making hits if given the right advice. His advice! Ah yes, the young and restless! He encourages Sparkle to reach deep in her soul for stronger lyrics that portray life's ups and downs. Stix pushes Sparkle to step out of her comfort zone into an unknown world. It is a world where she isn't comfortable and it frightens her but she tries it. She is successful but continues to write songs for the sister girl group raising their level of fame. Too much is given, much is required, says the Good Book and that is what each Anderson sister encounters on their walk to stardom. A walk they eventually understand why Emma so desperately wanted to shield them and be their protector. (Karen Pecota)