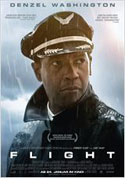 Opening 24 Jan 2013
Directed by: Robert Zemeckis
Writing credits: John Gatins
Principal actors: Nadine Velazquez, Denzel Washington, Carter Cabassa, Adam C. Edwards, Tamara Tunie
A routine flight between Orlando, Florida and Atlanta, Georgia takes off into a horrendous thunderstorm, whereby Captain Whip Whitaker (Denzel Washington) daringly maneuvers the plane into a calm area. After assuring passengers and apologizing for no food or drink being served, he naps while the crew takes over. Cutting back and forth, we also meet Nicole (Kelly Reilly), who disregards her drug provider's warning, precipitating her emergency trip to an Atlanta hospital. Aboard again, head flight attendant Margaret (Tamara Tunie) checks in, co-pilot Ken (Brian Geraghty) confirms she should tell the passengers to buckle up, and he begins landing procedures with terrifying results. When a young boy slips out of his seatbelt, flight attendant Katerina (Nadine Velazquez) goes to his rescue; even though Whip's ability defies odds in landing the aircraft, he does so – albeit there are six deaths, including Whip's main squeeze Katerina.
Charlie Anderson (Bruce Greenwood) greets Whip when he awakens in the hospital; friends since the Navy and then as Delta pilots, now Charlie "flies desks" as a union representative. After Harling Mays (John Goodman), Whip's droll go-to buddy brings him smokes et al, Whip encounters Nicole in the hospital stairwell; he gets her address. Unfortunately for Whip, a crash with deaths stipulates NTSB (National Transportation Safety Board) investigation, whereby Charlie brings in criminal attorney Hugh Lang (Don Cheadle). Meanwhile Nicole and Whip hook up and she moves in with him – the discrepancy is that she wants to live clean. At the NTSB hearing, Ellen Block's (Melissa Leo) final question unnerves Whip – "god help me" – and truths emerge.
Teaming Academy Award® winners director Robert Zemeckis (Forrest Gump), Denzel Washington (Training Day, Glory), Melissa Leo (The Fighter) and a bevy of exceptional actors, the feasible story from John Gatins is told in a spectacular way. The introduction's cataclysmic flight could make even the most stalwart reconsider flying; cinematographer Don Burgess catches not only the main action but also background incidental yet important information. Alan Silvestri's original music takes us further into the intense drama. Jeremiah O'Driscoll's editing is balanced yet sometimes gut wrenching, and the soundtrack songs are excellently matched to onscreen action. At the film's end, we learn something about the price of betraying trust and finding freedom in the strangest of places, because Flight is really about personal demons. (Marinell Haegelin)


Second Opinion

It's time to buckle up and get ready for a stormy ride through the eyes of Captain Whip Whitaker (Denzel Washington), a pilot who likes to live on the edge. From the moment Whip hits the screen, it is clear we are headed for a bumpy ride. This captain's night ended with not enough sleep and too much sex, drugs, and alcohol for him to be jumping into the captain's seat of South jet 227 heading out of Orlando that morning. As the plane plunges into a storm Captain Whitaker whips into shape trying to bringing the plane to a safe landing. At this point the plane takes a symbolic turn through a steeple of a church shadowing the events to follow. With six passengers dead, the investigations begin by putting Captain Whitakers under the microscope.
Flight is not just a typical airplane crash story; Academy awarding winning director Robert Zemeckis casts a different light on the characters, showing that despite Captain Whitaker's heroic maneuvers, he is still haunted by his reckless actions. Zemeckis gives us several possibilities, was it a pilot error? Was it a mechanical error or was it an act of God? The question still lies ahead; will he be able to come to terms with his misconceptions of his actions on Flight 227? Denzel Washington deserved an Academy Award nomination for his performance. It is a film well worth watching as long as you keep your seat belts buckled! (Shelly Schoeneshoefer)