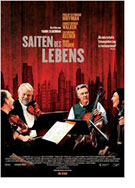 Saiten des Lebens (A Late Quartet)
U.S.A. 2012
Opening 2 May 2013
Directed by: Yaron Zilberman
Writing credits: Seth Grossman, Yaron Zilberman
Principal actors: Christopher Walken, Philip Seymour Hoffman, Imogen Poots, Catherine Keener, Wallace Shawn
Yaron Zilberman has written, directed and co-produced an intelligent, moving drama about the intimate and complex relationships of musicians in a string quartet. The plot is centered and structured around Beethoven's late String Quartet No. 14 in C sharp minor, Opus 131. Zilberman choose Opus 131 for its expression of strong emotions and the requirement that its seven movements be played attaca, without pause. During the almost 40 minutes of playing without a break, the instruments go out of tune and the players have to struggle to adapt individually and as a group – Zilberman's metaphor for long-term relationships.
The world-famous Fugue String Quartet is preparing for their 25th anniversary concert when the cellist Peter (Christopher Walken), the oldest member and spiritual leader of the quartet, receives a diagnosis that will not only change his life but that of the quartet. Peter's intent to resign after the anniversary concert leaves the three remaining members with a headache. Daniel (Mark Ivanir), the first violinist, wants Peter to continue but more important he wants to keep his position as lead violinist. Robert (Philip Seymour Hoffman), the second violinist, sees a restructuring of the quartet as a time for Daniel and himself to start rotation of the role of first violinist. Robert's wife Juliette (Catherine Keener), the violist, can't support Robert's wish to play first violin and can't imagine the quartet without the guiding force of Peter. And so the drama begins: repressed emotions, ego conflicts, betrayal, passion and love. In spite of this backdrop, the ensemble remains together and at the anniversary concert become "one" to create a masterly interpretation of the first movements of Opus 131. The daughter of Robert and Juliette, Alexandra (Imogen Poots), sums up what makes the Fugue such a great quartet: Daniel's first violin hypnotizes with its precision; Robert's violin is the emotional element – adding color, texture and rhythm; Juliette's viola is the instrument that adds depth and emotion while serving three masters; and Peter's cello is the foundation. But what happens when the lineup changes?
The casting was excellent and all the roles are played to perfection. Zilberman's goal to make the film as authentic as possible requiring the actors to mimic playing their instruments for short phases was perhaps an overambitious goal. The world-acclaimed Brentano String Quartet plays an exquisite Opus131 for the soundtrack. Angelo Badalamenti composed the touching and beautiful film music. This movie pays homage to cultural Manhattan. The ambience is sophisticated and congruous. The instruments were chosen for their color and grain, which in turn influenced the general color palette of the film. The musicians are shown in their elegant apartments, at the Frick Collection (a first in film), in the famous recital hall of the Metropolitan Art Museum, at a violin auction at Sotheby's, and in and around iconic Manhattan.
Zilberman's love of classical music and art and his meticulous research on string quartets give integrity and beauty to this film. (Carol Strametz)


Second Opinion

Classical chamber music's most important combination is the string quartet, traditionally consisting of two violins, a viola, and a cello, thereby conveying the range of a human voice – soprano and alto (violins), tenor (viola) and bass (cello). Integral to understanding this film and its characters is, symbiotically, how quartet musicians become a single instrument of harmony and precision; they spend hours practicing, share in decision making and support one another, often over decades.
In one scene Peter /Walken describes how years earlier he played dreadfully during an audition for Pablo Casals, who nevertheless praised his performance, Peter felt dishonestly. Years later they met again when Peter, a success, asked Casals about that audition: "I heard those mistakes, but I also felt your passion, your conveying it in strong sensitive lyrical phrases that others rarely achieve. Those critics who keep track of every wrong note are missing out on what music and life has to offer."
The intricacies of a quartet are metaphorically reflected in the characters: Peter, bereft after a dismal diagnosis intensified by his wife's death; driven first violinist Daniel's (Ivanir) self-centeredness; second violinist Robert's (Hoffman) unsupported desire to play first; violist Juliette (Keener), bound to all, betrayed and confused by husband and daughter (Poots).
The quartet's 25th Anniversary program includes Beethoven's The String Quartet in C-sharp minor, Opus 131, containing a fugue. As a style of composition – a contrapuntal compositional technique – a fugue has two or more voices repeating at intervals, recurring frequently, and its evolving is complex rather than fixed. Peter (Walken quietly commands) knows the fugue will be his nemesis without agile hands, and still leading, cannily knows the moment to bow out.
Much has been written about Beethoven's quartet being performed in the film, although it was Hayden's compositions that brought prominence to quartets, beginning around 1756. Just as, to understand the range of familial emotions embedded in the four key characters in Zilberman and Grossman's story, one must be aware of a quartets' symbiosis. Portrayed in mature well-tuned performances that run the scale from crisis to compromise, this creative milieu eloquently swells into a thoughtful, moving, and beautifully filmed (Frederick Elmes, cinematography) work of art. (Marinell Haegelin)