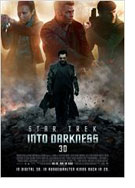 Star Trek Into Darkness
U.S.A. 2013
Opening 16 May 2013
Directed by: J.J. Abrams
Writing credits: Roberto Orci, Alex Kurtzman, Damon Lindelhof, Gene Roddenberry
Principal actors: Chris Pine, Zachary Quinto, Zoe Saldana, Karl Urban, Simon Pegg
Star Trek is a relic of nobler times, where outer space was conquerable and optimism was still part of America's DNA. Originating with the 1966 TV series, the franchise initially sputtered, then thrived, and ultimately morphed into innumerable spin-offs and twelve feature length movies including the newest, Star Trek Into Darkness. This 3D film is even more riveting than director J.J. Abrams' acclaimed 2009 prequel, Star Trek.
It starts just shortly where Star Trek left off with a familiar cast of characters. Young kick-ass Kirk (Chris Pine) is the cocky commander of the Enterprise. Though a bit older and more experienced, he still squirms under the shackles of military regulations. Logician Spock (Zachary Quinto) is again aboard as first officer. Anticipate some (more) male bonding with the captain. Elegant as ever, Uhura (Zoe Saldana) gets to heat up her romance with Spock, though barely above simmering. Loyal medical officer Bones (Karl Urban) brilliantly ensures Kirk survives his escapades in space, even when all hope seems lost. Brogue-tongued wit Scotty (Simon Pegg) is the engineering genius who, though he resigns the Enterprise on ethical grounds, eventually returns to keep it aloft. A new/retro looking buxom blonde character is Carol Marcus (Alice Eve), the daughter of a Starfleet admiral. The scene where she strips down to her black underwear in front of the boyishly blushing Kirk sweeps the audience back in time to a parallel-universe, an era of refreshing risqué naiveté. Appearing in Abrams' films for the first time as a super human is John Harrison (Benedict Cumberbatch). He roguishly plays the game of cat and mouse leaving all to wonder if he is evil or just a pawn in someone else's diabolical plan. Harrison's venom dripping, baritone voice, his cold glacial stare, his masterful imperious presence make him the perfect antagonist to Kirk and Spock. Spoiler Alert: It takes both heroes' brawn and brains to literally put Harrison in his place.
Star Trek Into Darkness is ultimately a lot of fun to watch as it teases its audience with a lot of insider jokes. It does help if you have a bit of Trekkie blood running through your veins. The visual effects combining computer-animation and live-action are stunning. 3D turns this futuristic film into a sensory delight. Michael Giacchino's dynamic score nostalgically culminates at the end of the film in Alexander Courage's Star Trek theme; all is right in the Star Trek universe. Action aside, and there is plenty of that, the relationships among the characters are the integral, driving force in this movie, as they were in the original TV series. Star Trek Into Darkness is colonized with good, decent, optimistic people. Bravery is noble, and friendships are forever. Watch at the end of the film as Spock's Vulkan genes momentarily become anesthetized, and his Human side emerges.
Though it has been announced that director J.J. Abrams will be spending the next couple of years filming Star Wars 7, we have to believe Star Trek III and the Enterprise, though temporarily lost somewhere out in space, will eventually re-emerge hovering above the nearest horizon. (Pat Frickey)